Here is the latest in a series of examinations into urban legends about music and whether they are true or false. Click here to view an archive of the music urban legends featured so far.
MUSIC URBAN LEGEND: Kiss got into trouble for the Kiss logo appearing to contain the logo for the Nazi S.S.
The band Kiss was formed when guitarist Ace Frehley joined the group Wicked Lester, which consisted of Gene Simmons, Paul Stanley and (just before Frehley) Peter Criss. A few weeks after he joined, the band changed their name to Kiss (Stanley coined the name).
After joining the group, Frehley created the now iconic Kiss logo. Which brought them some trouble in the future. Read on to find out how!
While surely Frehley did not intentionally mean to be offensive to Jewish people, considering both Simmons and Stanley were Jewish (and Simmons' mother was a Holocaust survivor, even!), he still managed to clearly evoke the logo for Hitler's personal nazi guard, the Schutzstaffel (more commonly known as the SS).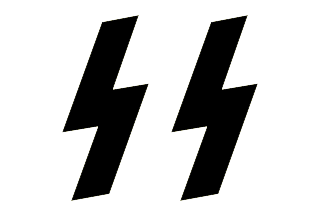 They're not just similar, they're identical.
However, you could easily argue (and Frehley has) that the idea of using lightning bolts for s's is not exactly the most original idea – it's a fairly standard one, even. So you could easily see Frehley coming up with the logo idea independently from the infamous SS logo.
In any event, even if he did use the SS logo for an inspiration, like I said, he surely did not mean to offend.
And the logo did NOT offend people – until 1980, that is.
While preparing for a tour of West Germany in 1980, the logo became news again when the usage of the SS logo in a political ad became a big news story in West Germany. The politician asked, reasonably enough, why Kiss was allowed to use it. The German response was, essentially, "Well, they can't, either." In fact, currently, NO one can use the SS logo (as of 2004) legally. At the time, though, it was more of a "you better not use it!" type of thing.
Kiss did not want to piss off the Germans, especially when it was a fairly reasonable complaint (as, again, it really does look like the SS logo), so starting in 1980, all of their merchandise in Germany has contained an alternate logo…
And that's really all there is to that!
The legend is…
STATUS: True
Feel free (heck, I implore you!) to write in with your suggestions for future urban legends columns! My e-mail address is bcronin@legendsrevealed.com