Here is the latest in a series of examinations into urban legends about TV and whether they are true or false. Click here to view an archive of the TV urban legends featured so far.
TV URBAN LEGEND: Doris Roberts hid a back injury so that she could be cast on Remington Steele.
Doris Roberts played Mildred Krebs, the assistant to the investigators Laura Holt and Remington Steele on the TV series Remington Steele.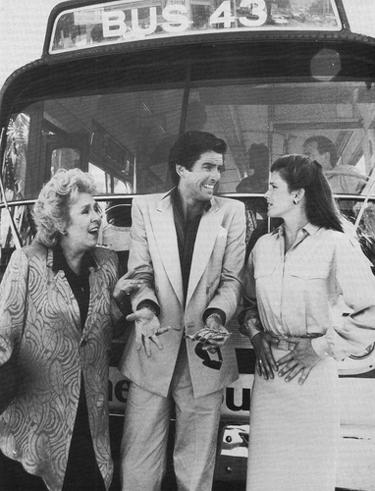 What's amazing, though, is what she put herself through to GET the job!

When she was cast for the role, she had just spent six months suffering from a terrible inflammation of her sciatic nerve in her back. When she auditioned for the role, she wore a back brace.
However, while she was able to fake her way through an audition using a back brace, she then had to get a company physical in a back brace!
Now it's certainly true that companies are often willing to work with actors when it comes to physicals – they'll occasionally come up with ways around them (often saying "we're willing to risk going without insurance"). However, that treatment is typically reserved for "stars," and while they MIGHT have come up with a way to get Roberts on to the show despite her sciatica, she was not taking any chances!
So Roberts actually went to her physical wearing her back brace and basically hoping for the best.
When there, she must have convinced him that she was in good health, because he did not give her a thorough examination and thus never discovered her little secret.
The rest is, as they say, history.
Now the only reason I have "I'm going with True" rather than flat-out true is that we're really just going on Doris Roberts' word that this story actually happened. She wrote about it in her book, Are You Hungry, Dear?: Life, Laughs, and Lasagna
, and, really, it's not such a shocking story that I think we should doubt her, so I'm going with true, but I suppose it COULD be a random, elaborate lie – I just sincerely doubt it (enough for me to say true, at least).
The legend is…
STATUS: I'm Going With True
Feel free (heck, I implore you!) to write in with your suggestions for future installments! My e-mail address is bcronin@legendsrevealed.com.