Here is the latest in a series of examinations into urban legends about TV and whether they are true or false. Click here to view an archive of the TV urban legends featured so far.
TV URBAN LEGEND: Tom Selleck forced Blue Bloods to reverse a plotline involving a fired cop.
One of the longest running, most watched dramas on television is CBS' Blue Bloods. The show stars Tom Selleck as Frank Reagan, the New York City Police Commissioner, along with his two sons, Detective Danny Reagan (Donnie Wahlberg) and Sergeant Jamie Reagan (Will Estes), and his daughter, Assistant District Attorney Erin Reagan (Bridget Moynahan), as well as his father, Henry Reagan (Len Cariou), who is the former New York City Police Commissioner. Jamie was a lawyer who had graduated from Harvard, but when the oldest Reagan son, Joe, was killed in the line of duty, Jamie quit his lawyer job to enter the police academy. He recently became a Sergeant and was married to his former partner, Edit "Eddie" Janko (Vanessa Ray).
While perhaps not necessarily what you would deem a "Conservative" TV series, it is fair to say that Blue Bloods is certainly MORE conservative than most other TV shows out there and its star, Tom Selleck, is one of the more prominent conservative actors around. He has been a member of the National Rifle Association for decades and was a board member of the NRA for over a decade. Similarly, Frank Reagan is one of the more conservative characters on the show, which sets up a conflict between Frank and his somewhat liberal son, Jamie, his much more liberal daughter, Erin, and his even more liberal granddaughter, Nicky Reagan-Boyle (Sami Gayle). In general, though, the show tends to side with Frank in the end of most episodes. This is especially shown in interactions between Frank and Garrett Moore, the NYPD Deputy Commissioner of Public Information (played by Gregory Jbara), who often tells Frank the most politically motivated thing to do in a situation and Frank, of course, usually takes a more principled stand. Robert Clohessy, meanwhile, plays another assistant to the Commissioner, Sid Gormley, who often takes more conservative positions and so Gormley and Moore will often be the dueling angles on Commissioner Reagan's shoulders on issues. The show even pokes some fun at the idea of "Saint Frank" on the show, as he is almost never is shown as being wrong on the series.
One notable example, though, was actually driven by Selleck behind the scenes.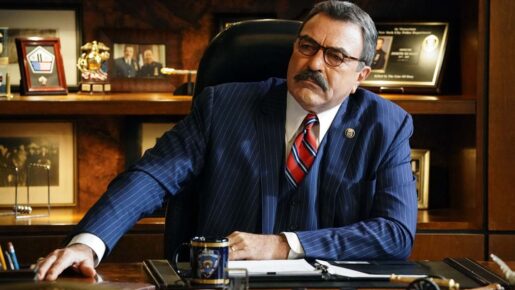 In Season 8's "Legacy," a rookie cop named Rachel Witten (played by Lauren Patton) stops a man named Joseph Rivera for jaywalking. She thinks that he is acting nervous and so she asks the man for his identification. He refuses and then she asks him about his immigration status. The whole thing is recorded by other people around the cop and it becomes a media story, especially since the governor had specifically told cops to NOT ask for immigration status in situations like this. As another character later notes, it really makes it look like she stopped him for "Walking While Being Hispanic." However, some disagree. Sid Gormley believes that the stop was, "She went by the book, and we're trained that book's the bible." Deputy Moore countered, "And like the bible, the wrong translation can cause more harm than good."
The man was arrested and he was taken in by ICE (Immigration and Customs Enforcement) over his immigration status. It turns out that the guy was severely claustrophobic, which is why he freaked out so much when Witten stopped him. Commissioner Reagan takes Officer Witten to visit Rivera in custody and she stays with him to help him with his claustrophobia. Witten is then effectively fired for "Bringing undue criticism to the department." As Frank notes, "'By general law, life and limb must be protected, yet often a limb must be amputated to save a life, but a life is never wisely given to save a limb,' Abraham Lincoln. This department is the life, Officer Witten is a limb." The episode was written by Blue Bloods Story Editor, Allie Solomon.
Selleck did not like how the episode turned out. He later recalled to TV Guide, "After we did the show, it's a very good episode, [Frank] has to fire [Witten] and he deeply regrets that. But it stuck with me, Tom, and it stuck with Frank. Trying to put that right was a personal journey for Frank. There's no real way to do it, and [Frank] said, 'I don't care; we're going to do it.'"
Solomon was not in favor of reversing the decision, but it became a big issue for Selleck, so sure enough, in the following season, Solomon wrote "Milestones." In the episode, Frank is having breakfast when he discovers that his waitress is Rachel Witten. This reminds Frank of what happened to her in the previous season and he decides that he wants to rectify his past mistake. The episode was set after New Year's, so Reagan notes, "I made two resolutions. One is to always be right. And the other is to admit it completely and immediately when I am wrong."
Frank conceded that she screwed up, but that she should not have been fired over her actions. By the end of the episode, Witten is re-hired as a police officer.
Not only was she re-hired, but Frank arranged it so that she would be partnered with Frank's daughter-in-law, Eddie Janko-Reagan, who needed a new partner once Jamie was promoted to sergeant. So Lauren Patton went from being a one-off gig where her character was fired to become a recurring character on the series a year later!
In the current season of the series, though (Season 12), Witten appears to have been written off, as she has grown tired of how poorly the public treats cops. We shall see if she returns in the future!
The legend is…
STATUS: True
Thanks to TV Guide for the information!
Be sure to check out my archive of TV Legends Revealed for more urban legends about the world of TV.
Feel free (heck, I implore you!) to write in with your suggestions for future installments! My e-mail address is bcronin@legendsrevealed.com.