Here is the latest in a series of examinations into urban legends about music and whether they are true or false. Click here to view an archive of the movie urban legends featured so far.
MOVIE URBAN LEGEND: John Carpenter came up with the iconic score for Halloween only after an advanced screening of the film.
It's really fascinating to realize that there is a whole genre of films that really only came about in the last 40 years or so. There had obviously been horror films before 1978's Halloween and there had even been films that you could call "slasher" films before (heck, one of the classics in the genre, Alfred Hitchcok's Psycho, came out almost 20 years before Halloween), but the specific set-up of director John Carpenter's Halloween was a new one for Hollywood.
It told the story of a maniac named Michael Myers (or "The Shape") terrorizing a suburban neighborhood on Halloween night, trying to kill as many babysitters as possible…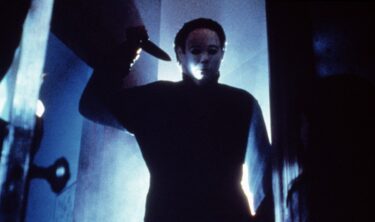 One heroic babysitter, Laurie Strode (Jamie Lee Curtis) was able to protect her young charges and ward off the killer…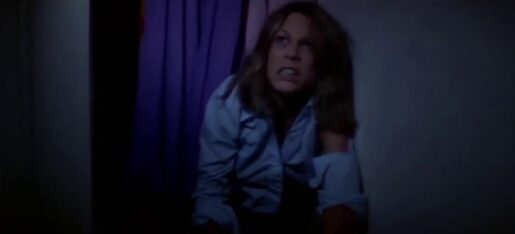 "Slasher killer tries to kill teenagers" became its own extremely successful genre from this point on, although few of its copycats were ever able to duplicate the brilliance of Halloween, which stood out as a legitimately great film for its time, regardless of genre.
Written by Carpenter and his co-producer on the film, Debra Hill, the movie is also extremely well known for the brilliant, stripped-down score for the film by Carpenter himself. Movies traditionally have orchestral scores, so Carpenter's simple keyboard score really stood out and his famed score was used for most Halloween sequels, even the ones that Carpenter wasn't otherwise involved in making.
The film was made on a very small budget (under $400,000) and its stripped-down style was used beautifully by Carpenter and the almost guerrilla filmmaking somehow worked out perfectly (like the famous decision by costume designer Tommy Lee Wallace to use an adapted Captain Kirk face mask for Michael Myers' iconic mask. Wallace just bought the mask from a costume shop for less than two dollars and transformed it into a piece of film history).
Carpenter, of course, was looking to do even bigger films and before the release of Halloween, he screened the almost-finished film for a Fox film executive as a sort of demonstration of his skills. Carpenter recalled how her reaction to the film changed it forever:
Tags: Halloween, John Carpenter, Laurie Strode, Michael Myers
October 31st, 2020 | Posted in
Movie Legends Revealed
|
No Comments