Here is the latest in a series of examinations into urban legends about baseball and whether they are true or false. Click here to view an archive of the baseball urban legends featured so far.
BASEBALL URBAN LEGEND: A baseball player forgot to pack his uniform for his appearance in the All-Star Game!
With the Major League Baseball All-Star Game tonight, I figured I'd spotlight a pair of All-Star legends yesterday and today! Here's yesterday's All-Star-related legend. On to today's!
The 1985 All-Star Game was, at the time, a fairly routine All-Star Game from the 1970s and 80s, in that it was a National League victory (their THIRTEENTH in the last FOURTEEN All-Star Games at the time!).
However, while the American League team was not victorious, in retrospect, their team that day was historic.
Of the eight position players starting the All-Star Game for the American League that year, a stunning SEVEN of them were later elected to the Baseball Hall of Fame!
Eddie Murray was at first base, Cal Ripken was at shortstop, George Brett was at third, Jim Rice, Rickey Henderson and Dave Winfield were in the outfield and Carlton Fisk was behind the plate – Hall of Famers all. Heck, the starting pitcher for the American League even has a chance of eventual enshrinement, as the pitcher, Jack Morris, was so close to enshrinement in the initial 15-year voting period that he likely has a good chance at the Veteran's Committee electing him eventually.
Comparatively, the National League team that same year had only two Hall of Famers on it (Tony Gwynn and Ozzie Smith).
And perhaps the most shocking thing is that the only American League position player on the team who ISN'T in the Hall of Fame probably has a decent case FOR being a Hall of Famer (or at least being considered)!
That player is Lou Whitaker, the longtime second baseman for the Detroit Tigers.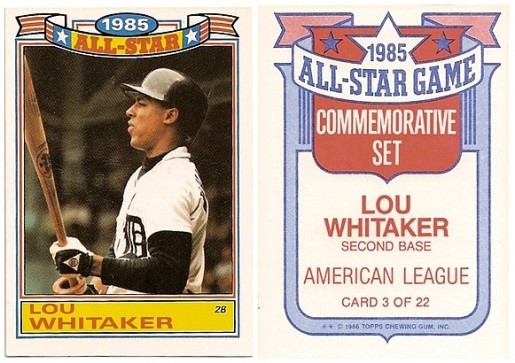 Whitaker ended up with 244 homers, 1084 runs batted in, 1386 runs scored and 2369 hits. Those are some pretty amazing numbers for a second baseman! And a second baseman who won four Silver Sluggers, was named to five All-Star Games, won a World Series and even won three Gold Gloves (especially impressive when you consider he was a contemporary of Frank White, who won about a gazillion and twelve Gold Gloves during his playing career at second base)!
Even if you don't think Whitaker ultimately should make it, the fact that he did not even last more than a single season on the Hall of Fame ballot is an utter joke. Not even 5% of the voters felt that he deserved to be in the Hall of Fame? Ridiculous.
Anyhow, I'm getting away from the point of this story.

Okay, so Whitaker started in the 1985 All-Star Game (held in Minnesota) at second base. However, on the way from Detroit to the game, Whitaker accidentally forgot his uniform and glove in his car at the airport!
Not a big deal, you would think – just have someone messenger him an emergency one, right? That's what Whitaker thought, as well.
However, after having an emergency uniform and glove sent to him – the uniform and glove were lost in transit on the way to Minnesota!!
So it now being the day of the game, Whitaker had to basically do whatever he could do – so he went to the various vendors for the game and ended up purchasing a replica Tigers jersey and a replica Tigers baseball hat. The jersey had no uniform number on it, so he drew his number "1" on the back with magic marker colored into a stencil! He used a Cleveland Indians batting helmet and he borrowed a glove from Cal Ripken.
Here's pictures of the uniform, from Paul Lukas' always wonderful UniWatch blog…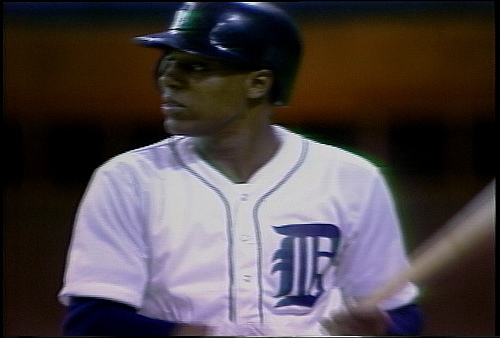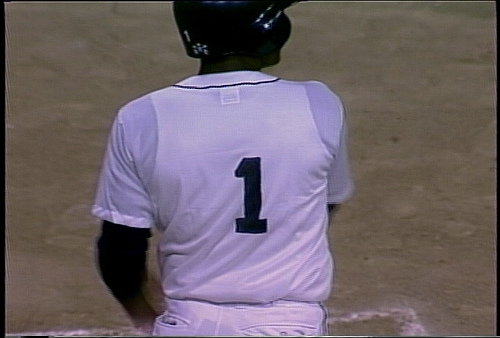 How cheap does that shirt look?
To make matters worse, he went 0-2 in the game.
The Smithsonian later asked for Whitaker's jersey, and he donated it to them, and I presume they still have it somewhere.
Pretty funny, huh?
Also, to recap – Lou Whitaker is awesome!
The legend is…
STATUS: True
Feel free (heck, I implore you!) to write in with your suggestions for future installments! My e-mail address is bcronin@legendsrevealed.com.