Here is the latest in a series of examinations into urban legends about baseball and whether they are true or false. Click here to view an archive of the baseball urban legends featured so far.
BASEBALL URBAN LEGEND: Frank Thomas' agents dropped him for skipping team workouts.
Scott Sanderson always had a strong sense of morals. Whether you think his morals are misguided or not, you would still have to admit that when the man takes a stand on an issue, he really took a stand.
When he was a Major League pitcher, Sanderson actually refused to talk to female reporters in the locker room. As the pitcher noted in 1991, when he continued the practice even though he was now playing in New York and it was, you know, 1991 and not 1951:
It's simple. I don't believe women should be in a place where men are getting dressed. At the same time, I recognize they have a job to do and I don't want to compromise their jobs. It's a moral issue to me, not a constitutional one. I have to stand up for what I think is morally right.
Sanderson took that same sense of morals with him to the world of sports agency, where Sanderson partnered up with Mike Moye to run Moye Sports Associates.
In late 2000, Moye and Sanderson began representing Frank Thomas after his longtime agent, Robert Fraley, died in the same plane crash that killed Payne Stewart.
In early 2001, Frank Thomas had some issues with White Sox President Jerry Reinsdorf. Specifically, Thomas was irked at a "diminished skills" clause in the contract extension that Thomas had signed in 1997. When he signed his deal in 1997, Thomas was coming off an extraordinary run from 1991-1997 that put him at among the best hitters in baseball for every year, including winning him two MVPs in 1993 and 1994. After two down years in 1998 and 1999 (for Thomas they were down years, at least), Thomas rebounded to come in second in the 2000 American League MVP voting.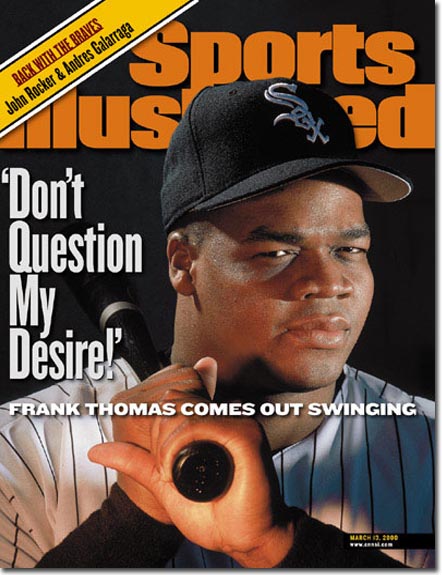 So the following season, Thomas wanted the White Sox to waive the "diminished skills" clause in his contract that was built around the following: the White Sox could defer part of his salary if he failed to be an AllStar, win the Silver Slugger award, or finish in the top ten for the MVP. If they invoked it, they would still own him the money (a little under $10 million), they could just defer all but $250,000 of it.
In 1998 and 1999, Thomas failed to do any of those three, but in 2000, he won the Silver Slugger and came in second, so he wanted the White Sox to waive the clause. They were unwilling to do so.
So, as a form of protest, Thomas sat out a few weeks of mandatory workouts. What happened next was quite surprising.

His agents were displeased and they dropped him as a client.
From the beginning of our involvement with Frank this off-season, we have consistently advised him to honour his contract, perform to the best of his abilities on the field and address any issues he might have with the White Sox privately. Based on recent discussions with Frank, we have concluded that we have divergent views on certain principles that we believe are fundamental in the representation of our clients.
After the 2002 season, the White Sox DID invoke the clause, although they chose to still pay him $5 million rather than the $250,000 they were entitled to.
In 2004 and 2005, they paid him $6 million and $8 million, respectively, then bought him out of his 2006 contract (a $10 million option) for $3.5 million.
Thomas mentioned at the time that he WAS being unfair to Sanderson and Moye, as they had just recently become his agent when they got caught up in the middle of his problems with the White Sox.
Sanderson and Moye's agency made the news again last year when star slugger Josh Hamilton left his agent of the time to join Moye Sports Associates, citing the group's Christian beliefs as a major reason for the move.
STATUS: True.
Feel free (heck, I implore you!) to write in with your suggestions for future installments! My e-mail address is bcronin@legendsrevealed.com