SPORTS LEGEND: Notre Dame used a play called by a terminally ill child in an actual game.
Montana Mazurkiewicz was a 10-year-old child who was dying from an inoperable brain tumor. The boy, a South Bend, Indiana resident named after famed Notre Dame quarterback Joe Montana, was naturally a huge fan of Notre Dame.
In September 2005, a week before the much anticipated Notre Dame/Washington Huskies match-up (anticipated because the Washington Huskies were coached by Tyrone Willingham, who preceded then-current Notre Dame coach, Charlie Weis, as coach at Notre Dame) Weis visited the young Mazurkiewicz.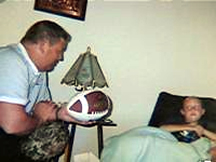 Weis agreed to let Montana call the first play against Washington that Saturday. Montana asked him to "pass right."
Tragically, Montana Mazurkiewicz did not live long enough to see the game on Saturday. He died at home the Friday before the game.
The game, by the way, made it as hard as it could on Weis to have the play be called.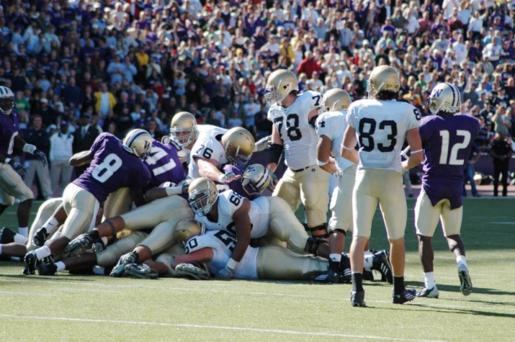 After a long opening drive, Washington ended up fumbling the ball and Notre Dame recovered at Notre Dame's own 1 yard line!
Now, when you get the ball on the 1 yard line, you almost always run the ball first, because for a pass, the quarterback has to drop back, and if you BEGIN on the 1 yard line, you're dropping back into your own end zone, and if you get sacked, it's 2 points for the other team! So teams almost always run the ball until they're safely out of their own end zone, and THEN they throw the ball.
However, Weis held true to his promise, and Notre Dame quarterback Brady Quinn dropped back and threw a pass to the right and connected with Tight End Anthony Fasano, who then leaped over a defender for a 13-yard gain.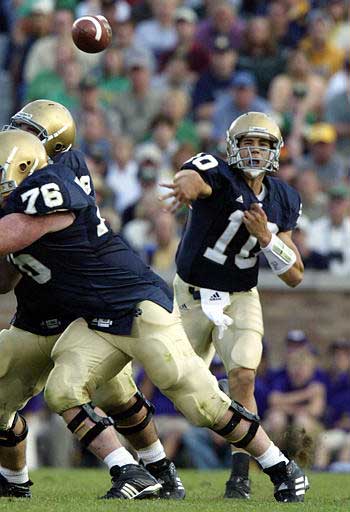 Notre Dame ended up winning 36-17.
Montana's mother on the play said:
It was an amazing play. Montana would have been very pleased. I was very pleased. I was just so overwhelmed. I couldn't watch much more.
What a sweet job by Weis and Notre Dame.
STATUS: True.
Feel free (heck, I implore you!) to write in with your suggestions for future installments! My e-mail address is [email protected]