Here is the latest in a series of examinations into urban legends about the Olympics and Olympians and whether they are true or false. Click here to view an archive of the Olympic urban legends featured so far.
OLYMPIC URBAN LEGEND: An Olympic rower paused during a race to let a family of ducks pass in front of his scull.
For such a true gentleman, it's a shame that Henry "Bobby" Pearce had to wait as long as he did to be let into a Gentleman's Club.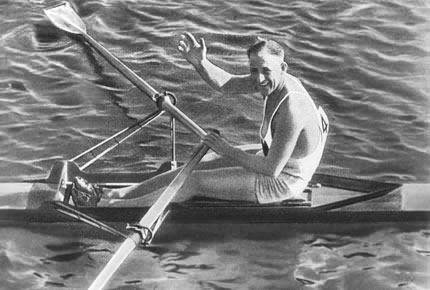 The Australian sculler (a scull is a boat used in competitive rowing) was the lone representative for Australia when he competed in single sculling at the 1928 Summer Olympics in Amsterdam, Netherlands.
Pearce easily advanced in the first two rounds of competition before an odd occurrence in the quarterfinals allowed Pearce to show what a nice guy he was.
While competing against a French opponent, a family of ducks passed in front of Pearce in the middle of his lane!!!
Pearce actually just sat there and LET the ducks pass!!!
Once they passed him completely, he took off and still easily won his race.
He went on to win the Gold Medal in the competition.
This was a gentlemanly act by Pearce, which made the events leading up to the 1928 Olympics even more shameful.
To prepare for the 1928 Olympics, Pearce wished to compete in the famous Diamond Challenge Sculls amateur rowing competition (which has been competed yearly since 1844).
However, Pearce was barred from competing since he was a carpenter, and the rules said that competitors are barred "Who is or has been by trade or employment for wages a mechanic, artisan or labourer."
Ridiculous, right?
After a stretch of bad luck during the Great Depression, Pearce's luck turned when he found himself a patron, whisky magnate Lord Dewar, who gave him a job as a salesman. Now qualified for entry (as he wasn't a lowly labourer anymore), Pearce competed in, and won, the 1931 Diamond Challenge Sculls.
In 1937, the competition dropped the ridiculous mechanics/artisan/labourer ban.
Pearce then went to Los Angeles and won the Gold Medal in the 1932 Olympics, becoming the first single sculler to win back-to-back Gold Medals.
Pearce became a professional sculler for the rest of the 1930s, and actually was a professional wrestler in Canada for a time in the late 1930s (Pearce had moved to Canada and become a Canadian citizen during the 1930s)!
During World War II, he was in the Canadian Army, where he would remain until he retired in 1956 (he died in 1976).
He was a lieutenant commander when he retired, so he was an officer AND a gentleman!
The legend is…
STATUS: True
Feel free (heck, I implore you!) to write in with your suggestions for future urban legends columns! My e-mail address is bcronin@legendsrevealed.com
Tags: Bobby Pearce, Diamond Challenge Sculls, Gold Medal, Lord Dewar, single sculling