Here is the latest in a series of examinations into urban legends about football and whether they are true or false. Click here to view an archive of the football urban legends featured so far.
FOOTBALL URBAN LEGEND: A Gatorade shower caused the death of Hall of Fame football coach George Allen.
After leading the New York Giants to a victory in Super Bowl XLVI earlier this year, head coach Tom Coughlin earned himself his second post=Super Bowl Gatorade shower (in the Giants' Super Bowl XLII victory, it was a clear liquid while this time around it was purple Gatorade). While the Gatorade shower is a notable tradition for coaches who just won the big game (a tradition popularized by the New York Giants during the 1980s, I addressed the history of the tradition in a Football Urban Legends Revealed here), there are concerns from some about an older coach like Coughlin (who is 65 years old) being doused with cold liquid in February. These concerns appeared to be justified with the 1990 death of Hall of Fame football coach George Allen, who allegedly died because of a Gatorade shower he received earlier that year. Read on to learn if the story is true.
George Allen's acclaimed coaching career began in the late 1940s with a short stint at Morningside College in Sioux City, Iowa. He followed that with a longer stint at Whittier College in California. Both were small liberal arts schools, but Allen did a fine job with their football programs. In 1957, he was hired on to the staff of Sid Gilman on the Los Angeles Rams (Gilman is also in the Hall of Fame). Allen only lasted a year with the Rams. After being let go by the Rams, Allen found himself hired by George Halas, owner and head coach of the Chicago Bears. Halas hired Allen to gain insight into the Rams, who the Bears played twice in the 1958 season. Allen impressed Halas so much, though, that he hired Allen on to the Bears coaching staff full-time. When the Bears' long-time defensive coordinator (I am not sure that the term "defensive coordinator" had actually been coined yet, but teams had assistant coaches who were in charge of the team's defense, so it is a bit like tomatO, toMAto) Clark Shaughnessy retired in 1962, Allen took over the position and helped lead the Bears to the 1963 National Football League (NFL) championship. Allen's efforts were rewarded by the team, as the players awarded Allen with the game ball. Allen also did the Bears' drafting for them and he did quite a job, drafting Hall of Famers Mike Ditka, Gale Sayers and Dick Butkus in his time in Chicago.
After the 1965 season, tired of waiting for Halas to retire (Halas had just won Coach of the Year in 1964, so it did not seem like he was leaving any time soon) Allen signed with the Rams to be their new head coach (Halas was not pleased. He actually sued Allen for breach of contract and won, but let Allen leave, saying he just wanted to prove a point). He put up a dominant 49-14-4 record in five seasons in Los Angeles, with the team winning their division in 1967 and 1969 and netting Allen the 1967 Coach of the Year Award. Allen had a contentious relationship with Rams owner Dan Reeves, though, and Allen actually fired Allen after the 1968 season! However, the players on the team fought Reeves on the issue and Reeves agreed to give Allen a new two-year contract. When that contract ended, though, Allen was once again let go by Reeves. This time Allen actually left.
Allen took over the Washington Redskins and put up similarly dominant results, finishing a combined 67-30-1 in his seven seasons as Redskins' coach, including three straight division titles from 1972-1974, a 1972 Coach of the Year award for Allen and, most importantly, Allen's only career trip to the Super Bowl in 1972 (the Redskins lost to the undefeated Miami Dolphins – talk about poor timing). Eventually, Allen's intense coaching style wore out its welcome in Washington, as well, and when the Redskins missed the playoffs for the second time in three seasons, Allen was let go in 1977. Allen was re-hired by the Rams for the 1978 season, but Allen's intense coaching style did not go over as well with the current batch of Rams players, and after a disappointing preseason, Allen was let go before the 1978 season even began! Allen never coached in the NFL again.
Allen worked as a NFL broadcaster for a number of years before giving coaching another shot during the 1980s with stints in the short-lived United States Football League (USFL) for two teams, the Chicago Blitz and the Arizona Wranglers. After another break, Allen returned to coaching in 1990 with Long Beach State (California State University, Long Beach).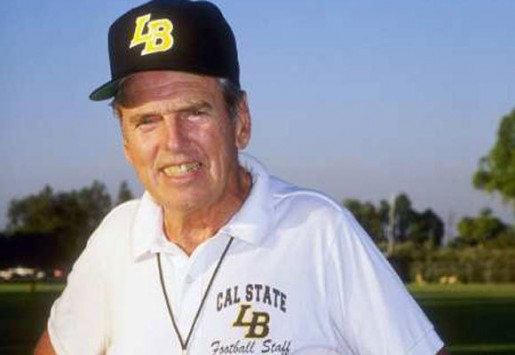 The school's football program, which had competed in Division I from 1955, had fallen into a bit of a state of disrepair, in part due to budget constraints. After three straight losing seasons, Allen led the Long Beach 49ers to a season-ending victory over the University of Nevada, Las Vegas on November 17, 1990 that secured them a winning season. Allen's team gave him a Gatorade Shower (Allen noted that due to the budget issues, the team could not afford actual Gatorade, so it was just ice water). Six weeks later, Allen died.
The story is most often told as "George Allen died from pneumonia that he caught from being doused with cold water and continuing to give interviews for a long time after the game." There are a few problems with that story. First of all, as your middle school science teacher could tell you, being doused with cold water during a cold day does not cause pneumonia. Pneumonia is caused by a virus. It is an urban legend in and of itself that getting wet during a cold day causes pneumonia (or the common cold, for that matter). It does not. So Allen could not have caught pneumonia from the Gatorade shower. That's the first notable problem with that story. However, I'll admit that there is certainly some debate among scholars that while the water doesn't CAUSE the pneumonia, that it might weaken the system of people who already have a virus, keeping them from fighting the virus off and then the virus turns INTO pneumonia.
But that leads us to the second, more important problem. George Allen did not die from pneumonia. Allen died from Ventricular fibrillation, a variation of a cardiac arrest. Allen had a heart arrhythmia (an irregular heartbeat) and in late December 1990, Allen's heart began to quiver rather than contract properly. This led to his death. This was not caused by a Gatorade shower received more than a month earlier.
Allen himself fed the story a bit by giving an interview soon before his death where he noted that he had had not felt well since the Gatorade shower. Allen's son, former Virginia Senator and Governor George Allen Jr. told Sam Borden of the New York Times, "He got a cold from it, but that was not the cause of his death. He had a heart arrhythmia. It had nothing to do with the Gatorade shower." As noted earlier, though, you don't get a cold from exposure to cold water, but it is safe to say that Allen did, indeed, have a cold that followed his Gatorade shower.
Long Beach State's football program ended up resigning from Division I after one more season in 1991 (a losing season). George Allen was posthumously inducted into the Pro Football Hall of Fame in 2002.
The legend is…
STATUS: False
Feel free (heck, I implore you!) to write in with your suggestions for future urban legends columns! My e-mail address is bcronin@legendsrevealed.com