Here is the latest in a series of examinations into urban legends about baseball and whether they are true or false. Click here to view an archive of the football urban legends featured so far.
BASEBALL URBAN LEGEND: A "farce game" ended up robbing Walter Johnson of an impressive pitching record (although the robbery was not recorded for over half a century!).
In 1912, Clark Griffith became the manager of the Washington Senators. He would manage the team for nine seasons and eventually buy the team himself.
A tradition he started early on was that at the end of the season, he would treat the fans to a "farce game," a game intentionally played for laughs (only if the game did not affect the standings – the Senators were in second place in the American League in 1912 and 1913 and third places in 1914). For instance, Griffith himself (a former star pitcher then in his 40s) would come out of retirement on the last game of the season to pitch in relief in 1912-1914 (he got an at-bat in each of the three games and actually hit a double in 1913 and 1914!). When the game was actually held in D.C. in 1913, they went even MORE overboard! And the result ruined a record for Hall of Fame pitcher Walter Johnson.
The Senators and the Red Sox played a wild game that Saturday, October 4th 1913 that included a then-record EIGHT pitchers used for Washington!
The Senators' star pitcher Walter Johnson was the center fielder that day! He stole two based that day. With the Senators up 10-3 going into the 9th inning, Johnson moved from center to pitcher Senators coach Jack Ryan (like Griffith, in his mid-40s at the time) came in to catch. Johnson intentionally throw two lob pitches to the Boston hitters. They both got hits. Johnson then moved back to center field (while pretending to be disgusted at his performance) and the Senators back-up catcher, Eddie Ainsmith, came in to make the only pitching appearance of his career. Ainsmith promptly gave up back-to-back triples, scoring both runs. Griffith came in to pitch, forming an octogenarian battery with Ryan. The Senators used a then-record five pitchers in the inning, including rookie second baseman Joe Geldeon, before they managed to hold on to a wild 10-9 victory that seemed to entertain everyone (including the umpires, who let both teams have additional outs during the game).
Here is the twist, though. Since the game was a joke game and Johnson intentionally threw what amounted to batting practice pitches, the official scorer did not charge Johnson with the earned runs. This left Johnson with a 1.09 ERA for the season, a remarkable year in which Johnson went 36-7 with 243 strikeouts in 346 innings pitched.
That 1.09 ERA was one of the best ERAs of all-time and it was THE best ERA for a pitcher who threw over 300 innings.
Well, in 1968, Bob Gibson had a 1.12 ERA in over 304 2/3 innings pitched. At the time, while it was a tremendous feat, it was thought to be the second-best ERA of a pitcher who threw at least 300 innings.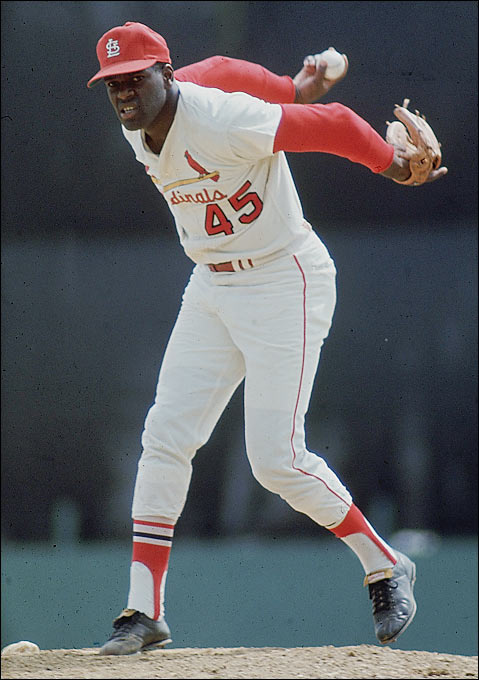 Sometime in early 1980s, though, a researcher was going over Johnson's box scores and discovered the scoring decision. Naturally, it was overruled (as the game WAS an official game, even if it was intended as a joke) and so Johnson's ERA for 1913 ended up as 1.14, making him second to Gibson among pitchers who threw at least 300 innings (and from fourth to sixth in best single-season ERA by a pitcher qualifying for the ERA title).
So the joke, as it turned out, was on Johnson! Then again, he died thinking he had the record (and he also died a first ballot Hall of Famer – and when I say "first ballot," I mean FIRST BALLOT, as he was one of only five men to get elected in the Baseball Hall of Fame's inaugural induction in 1935), so I don't think he minded too much.
The legend is…
STATUS: True
Feel free (heck, I implore you!) to write in with your suggestions for future urban legends columns! My e-mail address is bcronin@legendsrevealed.com