Here is the latest in a series of examinations into urban legends about baseball and whether they are true or false. Click here to view an archive of the baseball urban legends featured so far.
BASEBALL URBAN LEGEND: Charlie Kerfeld sought to commemorate his uniform number when it came time to renegotiate his contract after the 1986 baseball season.
Charlie Kerfeld was a big surprise for the Houston Astros in 1986 (just his second year in the majors, and his first full season – he was still considered a rookie).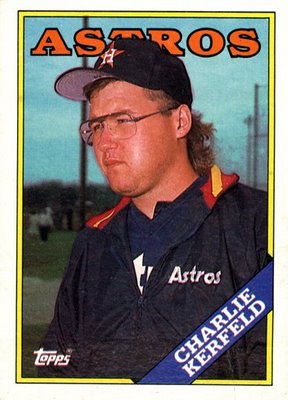 The young righthander went 11-2 with a 2.69 ERA and seven saves to form a dynamite relief tandem with Astros closer Dave Smith.
The Astros bullpen was a big part of the Astro success in 1986, a season where they made the playoffs and almost went to the World Series (mostly due to their great starting pitcher, Mike Scott, who won the MVP of the series even though the Astros lost!) if those pesky Mets didn't manage to beat the Astros in two of the most amazing games in National League Championship Series history (a 12-inning Game 5 victory in New York followed by a 16-inning Game 6 victory in Houston, where the Mets scored one run in the top of the 14th only to see Houston tie it in the bottom of the 14th, then the Mets scored three in the top of the 16th and the Astros scored two in the bottom half and had the tying run on third base when the game ended).
Kerfeld was a gregarious, fun-loving guy.
Here's a popular video of him in a post-game celebration after the Astros clinched the pennant (Mike Scott pitched a no-hitter to clinch the pennant) to go to the playoffs…
After seeing that clip, this following legend will not be hard for you to believe.

Fellow Houston Astro rookie pitcher Jim DeShaises (who also had a fine season, coming in 7th in the Rookie of the Year balloting while Kerfield finished 4th) renegotiated his contract after the 1986 season to go from making $65,000 to making $110,000.
With that in mind, Kerfeld, who wore the uniform number 37, went in with the following demand – that he make $110,0….37!
And 37 cents!
The Astros agreed, and for the 1987 season, Kerfeld made $110,037.37.
Sadly, injuries plagued Kerfeld the next season and really, his career soon fizzled and he was out of baseball by 1990.
But he will always be remembered fondly in Houston for his great 1986 season and his fun-loving ways!
The legend is…
STATUS: True
Feel free (heck, I implore you!) to write in with your suggestions for future urban legends columns! My e-mail address is bcronin@legendsrevealed.com