Here is the latest in a series of examinations into urban legends about baseball and whether they are true or false. Click here to view an archive of the baseball urban legends featured so far.
BASEBALL URBAN LEGEND: Wally Joyner was hit by a bowie knife thrown at him by a fan in Yankee Stadium.
Wally Joyner came out of (seemingly) nowhere in 1986 to help lead the California Angels to the postseason for just the third time in club history.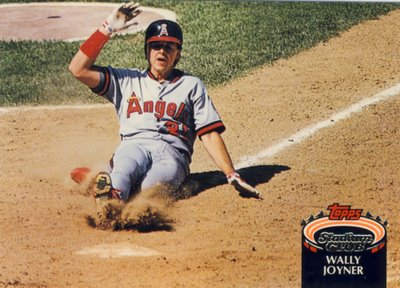 Joyner was the starting first baseman in the 1986 All Star Game (how he got more votes than Don Mattingly is still beyond me) and if it weren't for Jose Canseco, Joyner surely would have been named the Rookie of the Year (1986 was freaking STACKED with great rookies – other players who debuted in 1986 include Barry Bonds, Greg Maddux, Mark McGwire, Barry Larkin, Kevin Brown, Will Clark, David Cone, Rafael Palmeiro and a fellow who was playing all the way until LAST SEASON, Jamie Moyer – and that's not even counting Andres Galarraga who, like Canseco, debuted in 1985 but was still technically a rookie in 1986).
In fact, for all I know, maybe it was a disgruntled Mattingly fan that was responsible for the shocking moment of violence that happened when the Angels were visiting the Yankees in August of 86.

During the game, a fan threw a BOWIE KNIFE at Joyner!!!
To get a grasp of how screwed up that is, here's a Bowie knife…
You can thank the heavens, though, that the knife (as it twirled through the air) struck Joyner in the left arm with the hilt of the knife, so Joyner suffered only a slight cut as the blade hit his arm a little bit when the back of it struck him.
Talk about a psycho fan.
The legend is…
STATUS: True
Feel free (heck, I implore you!) to write in with your suggestions for future urban legends columns! My e-mail address is bcronin@legendsrevealed.com