Here is the latest in a series of examinations into urban legends about baseball and whether they are true or false. Click here to view an archive of the baseball urban legends featured so far.
BASEBALL URBAN LEGEND: Bill Lange broke through the outfield fence to make a brilliant catch.
In the film, the Natural, the character of Bump Bailey dies after crashing through a wall to make a dramatic catch in the outfield.
There are a few notable examples in baseball history that likely inspired this tale.
One was Yankee centerfielder Earle Combs, whose career basically ended upon an outfield collision he had in 1934 where he fractured his skull, broke his shoulder and seriously injured his knee – he was in the hospital for two months.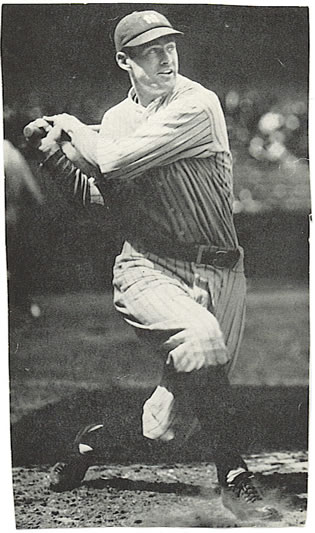 The next season, he attempted a comeback, but suffered another injury. As he was 36 years old and the Yankees were planning on bringing their prized centerfield prospect up the next season (a kid by the name of Joe DiMaggio – whatever happened to that guy?), Combs decided to retire.
So that likely had some influence upon Bump Bailey, but even more likely of an influence would probably be Bill Lange.
Bill Lange was a Chicago Colts centerfielder (he originally broke in as a second baseman) who was known as being a good fielder (he was also a good hitter, too!).
As the story goes, in a scoreless game in the tenth inning against the Washington Senators, with a runner on third base and two outs, Lange made a running catch in left-center field that caused him to crash through the wooden fence in left field, but still holding on to the ball.
It's a great story, and it likely had some influence upon Bump Bailey's similar crash in The Natural.
But is it just as fictional?

Now don't get me wrong, the story has a lot of truthiness to it, in that Lange DID make a dramatic tenth-inning catch with two outs and a runner on third to preserve a scoreless tie. However, he did not crash through a fence to do it.
You see, earlier in the tenth inning, on a ground ball, the Colts pitcher made an errant throw to the first baseman George Decker, seriously injuring Decker's hand (some say he broke Decker's wrist, which could be true, but I couldn't verify that). That likely is the runner who was later on third base with two outs.
There was a hospital near the stadium in left field.
So Decker's teammates got him on to a stretcher and then, using a ladder, knocked slats out of the wooden fence in left field and carried Decker through the hole in the wall to the hospital.
Over the years, the stories became conflated, and instead of Lange making a wonderful catch later in the inning with a hole in the fence, it became Lange made a wonderful catch in the inning by MAKING a hole in the fence!
Lange, to his credit, never claimed otherwise, even when the story became very popular in the early 1900s. He did not remember the details always himself (getting the date and score wrong on different occasions), but he always made sure never to claim that he actually crashed through the wall.
The legend is…
STATUS: False
Feel free (heck, I implore you!) to write in with your suggestions for future urban legends columns! My e-mail address is bcronin@legendsrevealed.com