Here is the latest in a series of examinations into urban legends about baseball and whether they are true or false. Click here to view an archive of the baseball urban legends featured so far.
BASEBALL URBAN LEGEND: Ron Wright had an extremely memorable (not in a good way) performance in his first, and only, major league game.
Ron Wright was a top hitting prospect for the Atlanta Braves as a slugging first baseman when he was traded along with top Atlanta pitching prospect Jason Schmidt to the Pittsburgh Pirates for Pirates' ace Denny Neagle.
Wright automatically became one of Pittsburgh's top hitting prospects.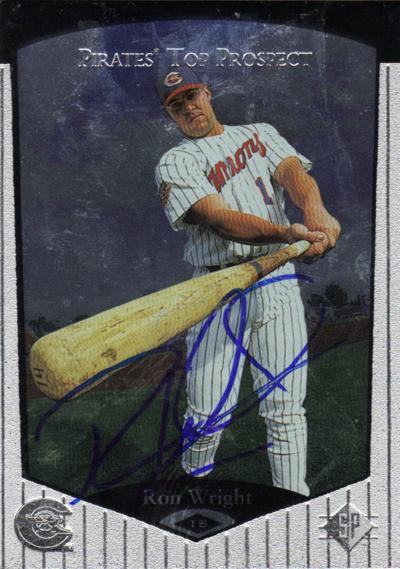 Wright was actually called up to the big league club at the end of 1997, but he had a sore wrist, so the Pirates just kept him on the bench (as why risk an injury when this guy was surely going to get to the Majors eventually anyways, right?).
The next year, though, Wright's career was basically ruined by a back injury. He missed most of the 1998 season, and the worst thing about it was that the surgery to FIX his back actually ended up hurting his sciatic nerve. Wright was now basically done as a top prospect, but he was still a good enough player to stick in the minor leagues for a few more years and finally, now in the Seattle Mariner organization, he got called up to the big league club in 2002 when Edgar Martinez went down with an injury.
He stayed on the bench, but then an injury to third baseman Jeff Cirillo in batting practice required a change to the lineup and Piniella inserted Wright as the Designated Hitter, batting seventh.
The game was in Arlington against the Texas Rangers (who had former Seattle Mariner star player Alex Rodriguez on the team). Wright's game would be one for the ages!

Wright first came up in the top of the second, with the Mariners up 1-0 and two men on base with no outs. Facing Kenny Rogers, Wright struck out looking on three pitches.
His next appearance came in the top of the fourth, with the Mariners still leading 1-0. Once again, the two men ahead of him (Ruben Sierra and John Olerud) reached base in front of him with no outs, Sierra was on third and Olerud was on first.
Wright hit a ground ball to Rogers, who flipped the ball to Alex Rodriguez at second base, getting Olerud on the force out. Sierra had waited until the throw went to second to try for home and he was thrown out – while the ball was going to home, Wright attempted to advance to second and he was nailed at second base for the third out of the inning. Yes, in his second at-bat in the Major Leagues, Wright had hit into a triple play!
After a Rodriguez two-run homer, Wright's next at-bat against Rogers came in the top of the sixth inning, with the Mariners now down 2-1. And ONCE AGAIN, Wright came up with no outs and Sierra and Olerud on base (Sierra on second, Olerud on first).
Wright then hit the ball the hardest he had all day, but it was a hard grounder right to Rodriguez, who fed the ball to second base for the force and on to first base for the double play!!
Yes, in his first three at-bats, Wright had struck out, hit into a triple play and now a double play!!!
After a three-run homer by Rodriguez, the Mariners came into the seventh inning now trailing 5-1.
After creeping within 5-4, Wright's spot came up with two men on and one out. Piniella felt that Wright had had enough, so he pinch-hit Mark McLemore for Wright (for Wright's sake, at least McLemore also promptly struck out in both plate appearances).
As bad as it was, you'd think he would at least get another chance, right?
Well, as it turned out, the Mariners needed some bullpen help, so he was sent down to be replaced by a relief pitcher.
Wright would never make it to the Majors again.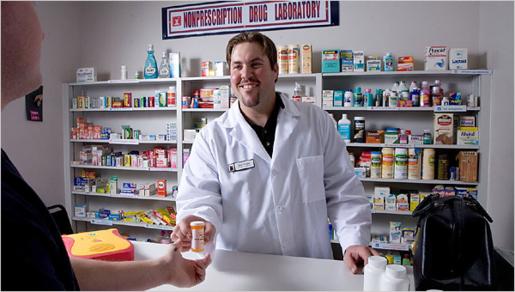 Now a pharmacist and baseball instructor in his home state of Idaho (married with four kids), Wright told the New York Times his thoughts about that day – "Best day of my professional life."
Great attitude.
The legend is…
STATUS: True
Thanks to Lee Jenkins of the New York Times for the great quote.
Feel free (heck, I implore you!) to write in with your suggestions for future urban legends columns! My e-mail address is bcronin@legendsrevealed.com