Here is the latest in a series of examinations into urban legends about the Olympics and Olympians and whether they are true or false. Click here to view an archive of the Olympic urban legends featured so far.
OLYMPIC URBAN LEGEND: A 17 year old took up the decathlon a few months before he won the Gold Medal in the event.
Bob Mathias was a sensational high school athlete whose high school career was coming to a close at the start of 1948, his senior year. Mathias already had received over FORTY first place finishes in various track and field events and had won the California Interscholastic Federation discus and shot put champion in 1947.
In the spring of 1948, his coach figured he could use a new challenge, so he suggested that Mathias try out for the decathlon in the Southern Pacific American Amateur Union Games in Los Angeles. The games were literally three weeks away, and Mathias had to actually learn how to play some of the games that make up the decathlon, including to pole vault and throw a javelin. What happened next was pretty amazing!

After three weeks of training, he won the competition easily.
Two weeks later, he was traveling cross country to New Jersey where the Natonal tournament was held (winner would go to the Olympics). He won that also handedly.
The Summer Olympics were in London at the end of July.
Mathias ended the first day third out of 39 competitors, but by the second day he was in first and after the last day, he had easily won! He was, at 17 years of age, the youngest man to win a Gold Medal in track and field in Olympic history!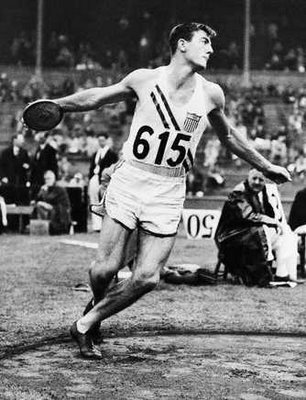 Now a Gold Medal winner, Mathias saw himself named the Amateur Athlete of the Year in 1948.
Sadly for Mathias, his academic abilities were not on the same part as his athletic abilities, so he had to go to a junior college for a year before he was finally allowed into Stanford.
In 1952, he won his SECOND Gold Medal in the decathlon, defeating the second place athlete by the largest margin in decathlon history.
Mathias did a few different things for the next decade (include get married). He starred in a film adaptation of his life (alongside his wife, also playing herself). He joined the Marines. He ran his own camp.
Finally, in 1966, he ran for Congress in California as a Republican and won. He served four terms before finally being defeated in 1974.
He stayed involved in politics for the next few years, then spent the rest of his life involved in athletics, as part of various Olympic committees and the National Fitness Foundation.
He passed away in 2006 from cancer at the age of 75.
The legend is…
STATUS: True
Feel free (heck, I implore you!) to write in with your suggestions for future urban legends columns! My e-mail address is bcronin@legendsrevealed.com