Here is the latest in a series of examinations into urban legends about football and whether they are true or false. Click here to view an archive of the football urban legends featured so far.
FOOTBALL URBAN LEGEND: The Pittsburgh Steelers chose Mike Tomlin for their head coaching job over Ken Whisenhunt.
This story really got a lot of play during the 2009 Super Bowl, as the Arizona Cardinals were pitted against the Pittsburgh Steelers.
Whisenhunt had been a longtime assistant under legendary Steeler coach Bill Cowher, so when Mike Tomlin had gotten the job replacing Cowher, it was seen as though Tomlin was chosen for the position over Whisenhunt.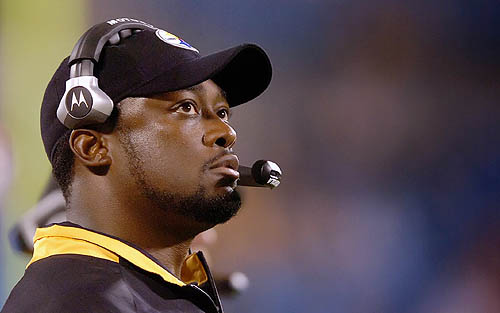 However, that's not how the situation really unfolded.

Whisenhunt accepted the job as the Head Coach of the Arizona Cardinals before the Steelers even finished their interviews for their head coach job.
Most likely, Whisenhunt felt that his "real" competition for the job was fellow Steelers assistant coach Russ Grimm. In fact, Whisenhunt had already begun to make plans on how to divide up the Steelers personal between he and Grimm.
Instead, the Steelers hired the Minnesota Vikings' defensive coordinator Mike Tomlin.
So instead of having the Steelers job, Grimm went to go work with Whisenhunt in Arizona.
And in each of their second seasons for their respective teams, Whisenhunt and Tomlin faced off in the 2009 Super Bowl, with Tomlin's team winning the game.
Tomlin might have won the game, but many media outlets also gave him a "victory" over Whisenhunt in the head coaching "game" that just was not true.
The legend is…
STATUS: False
Feel free (heck, I implore you!) to write in with your suggestions for future urban legends columns! My e-mail address is bcronin@legendsrevealed.com