Here is the latest in a series of examinations into urban legends about baseball and whether they are true or false. Click here to view an archive of the baseball urban legends featured so far.
BASEBALL URBAN LEGEND: A Twins pitcher was once knocked out during a bar brawl…by his own manager!!
Dave Boswell was a strong, young pitcher coming into the 1969 season (Boswell's Age 24 season). The big, brawny pitcher had already been to the playoffs in his second year with the Twins in 1965, and he seemed poised for big things in 1969.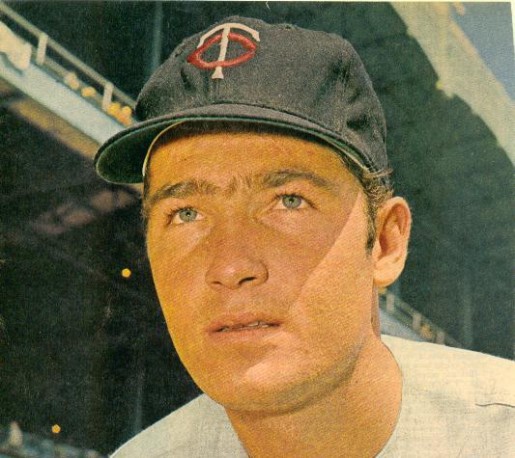 His new manager for the 1969 was the fiery Billy Martin, who had actually technically been teammates with Boswell in 1965 (Martin's last year in the big leagues).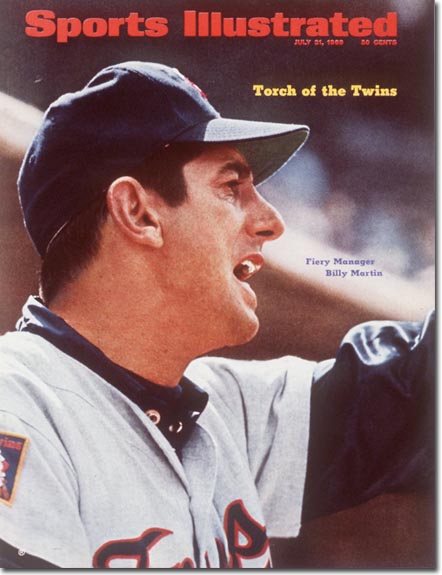 Both Boswell and Martin were known to enjoy the night life, and it was one specific night, August 6th of 1969, that would forever link the two men together.

Boswell, who was in the midst of a great season (and the Twins were doing very well in the standings, as well, with a record of 68-42 at the time, following a defeat of the Detroit Tigers that night, putting the Twins three games ahead of second-place Oakland), was in a foul mood that night.
He was irritated that Twins pitching coach Art Fowler was giving him a hard time over not running enough sprints that day. So that night at the Lindell Athletic Club in Detroit, he began to give Fowler a piece of his mind.
Veteran outfielder, the big Bob Allison (Allison and Boswell were both 6 foot three, but Allison had a good deal of a muscle advantage on Boswell), took exception to Boswell's complaints, and a brawl ensued in the parking lot of the bar.
Martin then waded into the action.
Here's where things get a bit tricky.
Now, over forty years later, no one has really set it straight exactly what happened that night (them all being drunk probably does not help), but the biggest "dispute" over what happened was between the way Billy Martin told the story and the way Dave Boswell tells it.
According to Martin, Boswell knocks Allison out and then charges Martin, who then laid Boswell out. According to Boswell, he was still fighting Allison when Martin came at him.
Martin was quite well known for his skills as a fighter, and he has previously broken a player's jaw during a brawl. So just because Martin was a skinny guy who was shorter than most of the players (and was, at the age of 41, a good deal older than the rest of them), it does not mean that he could not knock Boswell out. I tend to believe that he could.
However, I also tend to doubt that the smaller Martin was able to knock out Boswell as Boswell was coming at him, all 6 foot three inches and 200 pounds worth of him.
Most likely, Martin hit Boswell while Boswell was still occupied with Allison, and once he had Boswell down, he continued to punch him.
Whatever happened exactly, it DOES appear pretty clear that Martin DID, indeed, knock Boswell out, and while Boswell was out, Martin got a few other shots in.
Boswell needed over 20 stitches, while Martin need some stitches for his punching arm (and hand).
Boswell was due to pitch very soon at the point, but due to his recovery from the injuries he suffered during the brawl (and a semi-suspension by the Twins, in a sort of "maybe you shouldn't be around the team for a few days" kind of way), Boswell did not pitch again until the 18th of August, with the divisional lead now down to 1 and a half games.
Here is Boswell during this recovery – note his TWO black eyes.
Boswell pulled through, though, and was dominant for the rest of the season, helping the Twins make it all the way to the American League Championship Series, where the Baltimore Orioles defeated them. Still, despite the defeat, it was a successful season for the Twins.
However, all was not well in Twin-land – even though Martin had taken them to the playoffs in his first year, he was dismissed at the end of the season. With the fight between he and his own player, it was likely the owners wanted to distance themselves from the out of control Martin. This started his career of being hired, helping to turn around a team, then fired because he was hard to get along with (that's basically Scott Skiles' career path in the NBA, as well), as he next went to Detroit in 1971 where the cycle began all over again.
Interestingly enough, Martin and Boswell remained good friends for years to come – whatever might have happened that night, it appears that Martin approached it from a perspective of knowing just where Boswell was coming from, and I think Boswell respected that – they were both guys who had problems with their tempers and with excess in general, and I think that might very well have bonded the two men, as, like I said, they were good friends well into the 1980s (before Martin's excesses led to his death in a drunk driving accident in 1989).
The legend is…
STATUS: Basically True
Feel free (heck, I implore you!) to write in with your suggestions for future urban legends columns! My e-mail address is bcronin@legendsrevealed.com