Here is the latest in a series of examinations into urban legends about football and whether they are true or false. Click here to view an archive of the football urban legends featured so far.
FOOTBALL URBAN LEGEND: The Tampa Bay Buccaneers accidentally drafted the wrong player in the first round of the 1982 NFL Draft.
With the NFL Draft this week, I figured it would be nice to do a few legends this week involving the draft.
In the 1982 NFL Draft, the Tampa Bay Buccaneers selected Guard Sean Farrell with the seventeenth pick in the first round.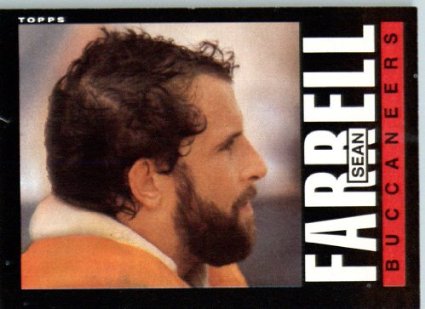 However, amazingly enough that wasn't the player that they meant to draft!
Read on to see how the mess happened.

The Tampa Bay Buccaneers were riding pretty high going into the 1982 draft. They had made the playoffs for the first time in their franchise's existence in 1979 (also their first season over .500) and had made it back to the playoffs in the 1981 season. They seemed poised to compete. However, the 1982 draft really threw the franchise for a loop.
Ken Herock, the director of personnel for the team, came up with two names for the Bucs to pick with their first round pick in the draft. One was Farrell, the other was defensive end Booker Reese, from the small Bethune-Cookman College.
Back then, people would communicate at the draft through speaker phones that were like intercoms (or walkie talkies, however you want to think of them). The representative for the Buccaneers was Equipment Manager Pat Marcuccillo, an assignment Marcuccillo got as an honor for his good work. I am sure he did not feel like it was much of an honor after the problems popped up.
First off, there is a bit of a dispute whether Herock actually gave Marcuccillo both names. Either he did, and Marcuccillo only heard Farrell's name or he only gave Marcuccillo Farrell's name at that point in time, with the intent to call him to change it to Reese if they changed their mind.
They did, indeed, end up calling Marcuccillo to tell him to pick Reese. But he did not hear them. Either he thought he heard them tell him to pick Farrell (as in they said "Pick Reese over Farrell" and he only heard "pick…garbled noise…Farrell"), or else he heard them tell him to make the pick, and he just assumed they meant Farrell because that's the only name he had. So Farrell was the pick, which was a surprise to everyone, including Farrell himself, who had just been told by a Tampa Bay representative that they WEREN'T going to pick him.
Marcuccillo actually asked the league to rescind the pick, but they would not let him do so.
As the first round ended, however, Reese was still on the board. However, Tampa Bay had already dealt their second round pick in a previous trade. So if they wanted to pick Reese in the second round, they would need to acquire a pick. They ultimately acquired the Bears' second-round pick (thirty-second overall) but they had to pay a heavy cost, their first rounder in the 1983 NFL Draft, which was already considered to be likely a deep draft at the time (although Herock said after the draft, "We don't think next year's draft will produce this kind of player for us. We don't believe it's risky. We have a whole year to develop Booker and we believe he'll be Pro Bowl level. He's got great potential."
Adding insult to injury, Reese played poorly for Tampa Bay and was traded to Los Angeles after just three seasons in Tampa Bay (he netted a 12th round pick) and he was out of league soon after, partially due to an addiction to cocaine (years later, he served two stints in prison for cocaine possession).
The Bears picked the speedy Willie Gault in 1983 with the Bucs' pick, but the real killer was that Dan Marino was still on the board when the Bucs would have picked in the 1983 draft. The Bucs also parted ways with their star quarterback, Doug Williams, at the same time. Marino could have succeeded him!
Instead, after making the playoffs in 1982, the Bucs soon settled into a decade-plus stint of futility, piling up double-digit losses in every season from 1983 to 1994.
Herock and Tampa Bay parted ways in 1984.
The legend is…
STATUS: True
Feel free (heck, I implore you!) to write in with your suggestions for future urban legends columns! My e-mail address is bcronin@legendsrevealed.com