Here is the latest in a series of examinations into urban legends about football and whether they are true or false. Click here to view an archive of the football urban legends featured so far.
FOOTBALL URBAN LEGEND: An NFL team once drafted John Wayne when he was 63 years old.
Here's the final in my series of football legends tied in to the NFL Draft ahead of tonight's draft.
Marion Morrison, later known by his famed stagename John Wayne, was an accomplished football player who played football at USC under coach Howard Jones. Morrison's football career was ruined by a collarbone injury suffered while he was surfing (a fact that he kept hidden from his coach).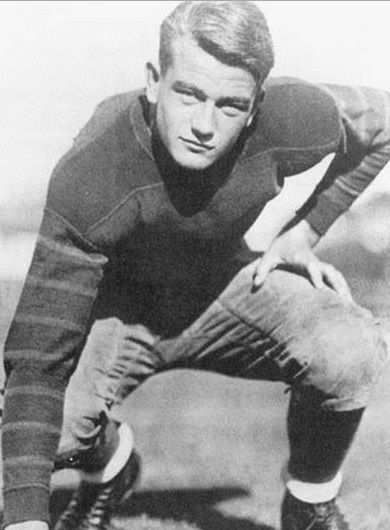 The loss of his athletic scholarship forced him to leave school. He then became a bit player in films until he eventually became perhaps the most famous actor in the history of the movies.
Read on to learn how an NFL team decided to pay tribute to the acting great late in his career…

By the early 1970s, Wayne was in his early 60s but was still extremely famous. Heck, to this day he remains one of the most popular actors out there and he died almost 36 years ago!
Back in the old days, the NFL Draft was a good deal longer than it is now. So by the 17th and final round, teams are often a bit punch drunk.
So it was with that in mind that the Atlanta Falcons made their 17th round pick (the 423rd overall pick), a tackle named John Wayne, of Apache U. There were a few laughs in the crowd, but it mostly went by without incident, until a few minutes later the Falcons were forced to make their pick again. They had already begun to explain their pick to reporters, noting that he was "a big, strong guy who has also had some success in a couple of movie roles."
They ultimately then selected running back Billy Martin.
Amusingly enough, NFL Films was there to capture Atlanta Falcons coach Norm Van Brocklin standing up and yelling to his staff, "Do we want the roughest, toughest s.o.b. in the draft?!" and when they say yes, he sends in their pick of Wayne.
The legend is…
STATUS: True
Thanks to Jeff Merron for the great Van Brocklin quote!
Feel free (heck, I implore you!) to write in with your suggestions for future urban legends columns! My e-mail address is bcronin@legendsrevealed.com