Here is the latest in a series of examinations into urban legends about the Olympics and Olympians and whether they are true or false. Click here to view an archive of the Olympic urban legends featured so far.
OLYMPIC URBAN LEGEND:Johnny "Tarzan" Weissmuller took on a fake identity so he could represent the United States in the 1924 Olympics.
Followers of U.S. politics surely know of the controversy that surrounded President Barack Obama and his birth certificate throughout his pursuit (and attainment) of the highest elected office in the United States. "Prove you were born in America" was a common refrain from certain circles (heck, even after the President did reveal his birth certificate that has not stopped some folks who still believe he was born outside the United States). Ninety-one years ago, there was another political "birther" topic, only it was about Chicago swimmer Johnny Weissmuller. In the days leading up to the qualification tournament for the 1924 United States Olympic swimming team, Illinois Representative Henry Riggs Rathbone expressed his doubts that Weissmuller, the swimming sensation (who later went on to become a film superstar as the portrayer of Tarzan on the screen), was born in the United States. Why won't he produce a birth certificate? Was he eligible for the U.S. Olympic team? Obviously, the U.S. Olympic swimming team allowed Weissmuller to compete, since he won five Gold Medals for the U.S. in 1924 and 1928. But was Weissmuller a U.S. citizen when he won Olympic gold?
After becoming one of the most famous swimmers in the world, Weissmuller translated his success into being a spokesperson for BVD. He then turned that into a long series of hit films playing first Tarzan, King of the Jungle (it was Weissmuller's films that debuted the legendary "Tarzan yell") then Jungle Jim and finally just playing himself.
When Johnny Weissmuller died, his obituary listed Winber, Pennsylvania as his birthplace and that's the answer Weissmuller gave everyone, including his five wives, three children and even his official biographer. At the height of his fame, the town celebrated their hometown hero in 1950 with a special day for Weissmuller (schools even closed for the day) and the Rev. Father MacKowiak presented Weissmuller with his church birth records, the same records that secured him a spot in the 1924 Olympic Games. But were they actually Johnny's records?

Nope, they were not.
Weissmuller was actually born in 1904 in Freidorf (as Jonas/Johann), a suburb of the city Timişoara within the Banat region of what was then Hungary and is now Romania. When Weissmuller was an infant (not even a year old) his family emigrated to the United States. They settled in Pennsylvania where their second son, Petrus (Peter) was born in 1905 (in Windber).
The Weissmullers eventually moved to Chicago, where Johnny took up swimming. He dropped out of high school and was working odd jobs when swimming coach WIlliam Bachrach discovered him at the Illinois Athletic Club. He began training Johnny and eventually "debuted" Johnny in August 1921 when Weissmuller became a dominant swimmer. He actually had an undefeated record in official competition.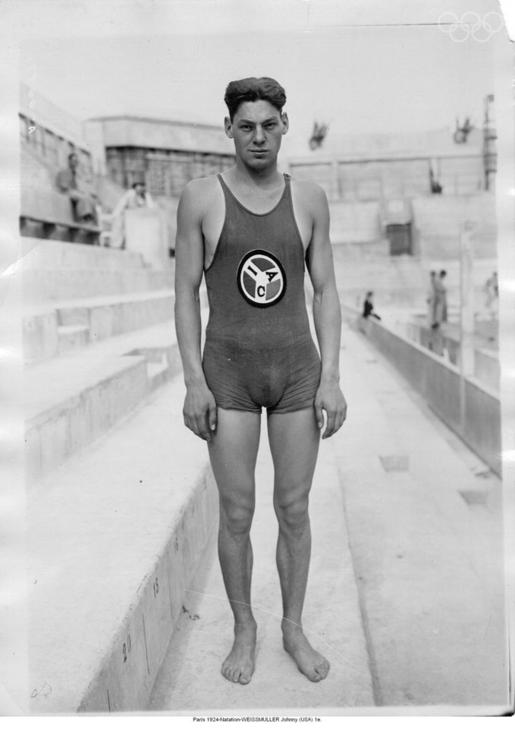 As his records and accolades began piling up in 1922 and 1923 (including breaking Duke Kahanamoku's record in the 100 meter freestyle), attention naturally began to turn to the 1924 Olympics in Paris, France. Weissmuller's grandmother made a bold decision to try to claim that Johnny was born and raised in Chicago, stating, "Johnny was born in Chicago, will be 20 years of age next June, and has no intention of being anything but an American citizen." The Chicago Tribune went with the headline, "CAN'T BAR WEISS FROM OLYMPICS; WAS BORN HERE." Rathbone backed off a bit, noting that it was possible Weissmuller WAS born in Chicago, but the fact remained that there was no evidence that he was and his family would not (or could not) deliver it.
With the Olympic trials fast approaching, the Weissmullers changed their tune. Johnny was not born in Chicago, he was born back in Windber. In fact, his younger brother Peter was actually his OLDER brother. The church records in Windber read "Petrus John Weissmuller," but John has clearly been written in in another color pen with different handwriting.
Still, this was enough and Weissmuller was awarded a passport. Interestingly enough, I believe Weissmuller did not actually change his date of birth on the passport. I could be mistaken there.
An interesting aspect of this story is just how many people knew and just didn't tell. For instance, all the people in Chicago who were friends with the family knew very well that this was untrue (particularly the ones who also emigrated from Hungary). Meanwhile, the people back home DEFINITELY knew, as they had his birth records! Still, no one wanted to make trouble for the Weissmullers, so they kept silent, even though I am sure a number of them felt that he was turning his back on his heritage.
It was those feelings of "hey, what about OUR connection to you?" that led to the truth coming out, as people began to publicly speak about the fact that birth records (and heck, all records) about Johnny and Peter told a different story than what was told in 1924. Weissmuller's son had an interesting point when he wrote about it in his book about his father, that the amount of worry that Weissmuller had to deal with must have been quite extreme. They would most likely take away his six medals (three golds in 1924, two in 1928 and a bronze for water polo also in 1924) and his mother would suffer great shame. Not only that, but Weissmuller truly DID love the United States. He would go on and on about his great appreciation and love for "his" country, and the thought of having that identity taken away was likely frightening, so he kept it a secret right until his death.
But now the record is straight.
The legend is…
STATUS: True
Thanks to Arlene Mueller's Sports Illustrated article on the topic from 1984 plus Johnny Weissmuller Jr's book about his father, Tarzan, My Father (written with W. Craig Reed).
Feel free (heck, I implore you!) to write in with your suggestions for future installments! My e-mail address is bcronin@legendsrevealed.com.