Here is the latest in a series of examinations into urban legends about football and whether they are true or false. Click here to view an archive of the football urban legends featured so far.
FOOTBALL URBAN LEGEND: The Saints kicker who held the NFL record for longest field goal for four decades inspired the NFL to come up with a new rule because of the special shoes he wore due to having no toes on his kicking foot!
One of the most memorable Saints victories in their early years occurred on November 8, 1970, in a game against the Detroit Lions.
The Lions were leading 17-16 with just a few seconds left on the game clock. The Saints seemed well out of field goal range, as Saints kicker Tom Dempsey would have to hit a 63-yard field goal to win the game.
But that's exactly what Dempsey did, giving the Saints a nearly impossible 19-17 victory! The kick set a new record for longest field goal, breaking the SEVENTEEN year record held by the Colts' Bert Rechichar, whose record field goal was 56 yards!
Now this should have been a perfect period in Dempsey's life, especially considering the obstacles he had to face in his life. You see, Dempsey was born without any toes on his right foot or fingers on his right hand.
Here he is in action…
You can see his hands in that photo clearly.
And here is the special shoe Dempsey would use…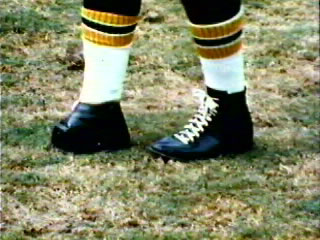 While you would think that this would be a happy occasion, a player overcoming adversity to set a record (a record that stood for over 40 years until Matt Prater kicked a 64-yarder in 2013, although Denver kicker Jason Elam TIED the record in 1998), some owners took issue with the special shoe Dempsey used. Could it perhaps be HELPING him too much?

Some even theorized that he had special steel plating or something like that assisting his kicks (he did not).
So after debating it for a few years, in 1977, the NFL instituted a new rule that stated "any shoe that is worn by a player with an artificial limb on his kicking leg must have a kicking surface that conforms to that of a normal kicking shoe." The rule is commonly referred to as the "Tom Dempsey Rule."
While Dempsey might not have exactly gotten the best response to having an NFL record, he has an NFL RULE named after him, so that's something, I guess.
The legend is…
STATUS: True
Feel free (heck, I implore you!) to write in with your suggestions for future urban legends columns! My e-mail address is bcronin@legendsrevealed.com