Here is the latest in a series of examinations into urban legends about baseball and whether they are true or false. Click here to view an archive of the baseball urban legends featured so far.
BASEBALL URBAN LEGEND: A top closer had his career de-railed by an attempt to show how he could dunk.
Cecil Upshaw was a major part of the success of the 1969 Atlanta Braves, who made it to the playoffs in 1969 only to lose to the "Miracle Mets." The 26-year-old Upshaw was a dominant closer for the Braves, back in the days that a closer was more of a "fireman" than a traditional "enter the game in the ninth inning up three runs" pitcher. He threw 105 innings with a 2.91 ERA and 27 saves. This followed his 1968 campaign where he put up similar numbers (in 1967, he did much of the same, but in limited time as it was his rookie season). He looked to become a major part of the Braves' future.
Then came 1970.

Upshaw was 6 foot 6 inches tall and an adept basketball player. He also prided himself in his ability to dunk a basketball. Well, during Spring Training in 1970 he was walking with a few fellow Braves pitchers when he talking about his dunking proficiency. I presume someone doubted his abilities (or perhaps he just wanted to demonstrate for the heck of it), so he showed how high he could jump by jumping up to grab a nearby awning. However, what he did not expect was for his wedding ring to catch on a protrusion on the awning – thus when he came down, he almost tore his ring finger off completely.
Luckily, the finger was saved, but Upshaw missed the entire season. Here he is after the fact…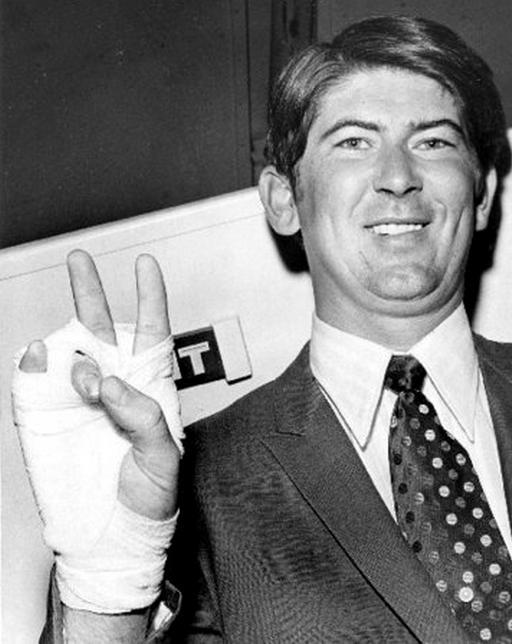 Upshaw returned in 1971 and was actually pretty decent, but clearly something was missing. He was out of baseball by 1976.
The legend is…
STATUS: True
Feel free (heck, I implore you!) to write in with your suggestions for future installments! My e-mail address is bcronin@legendsrevealed.com.