Here is the latest in a series of examinations into urban legends about baseball and whether they are true or false. Click here to view an archive of the football urban legends featured so far.
BASEBALL URBAN LEGEND: The very first grand slam hit in the major leagues was a two-out, bottom of the ninth, trailing by three, game-winner.
First off, we have to define a term (well, two if you don't know that a grand slam is the highest scoring play in baseball, resulting in four runs being scored) – "major league."
The National Association was perhaps the first professional baseball league, but Major League Baseball does not count it as a "major league," even though the National Association (which was founded in 1871 and folded four years later) was the precursor to the National League (two of the teams from the National Association play today – the Braves and the Cubs, although both went by different names back then). The formation of the National League is considered the formation of a "major league" according to Major League Baseball's official records.
So yes, Charley Gould DID hit a grand slam for Boston of the National Association on September 8, 1871 (the first year of the National Association). It was the first grand slam ever hit in professional baseball. The pitcher who Gould hit it off of, George Zettlein, previously (on May 8th) gave up the first home run PERIOD hit in the National Association. But if we go with "major leagues" (and I think we should, because it makes the story cooler), then Gould's grand slam does not count.
So who does that leave? Find out!
That leads us to Roger Connor, who is the man who held the all-time home run record for 23 years until Babe Ruth took it in 1921. Conner hit 138 home runs in his 18 year career (Ruth, by the way, hit more than 138 homers in just 1919-1921), and was the premier home run hitter of his day (although Ned Williamson, not Conner, held the single-season record of 27 homers. Williamson held that particular record from 1884 until 1919!)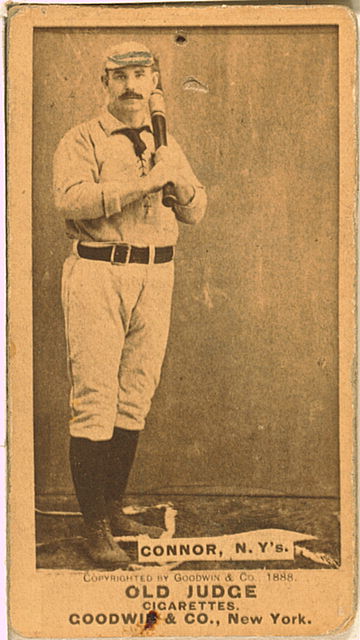 On September 10, 1881, Connor came to bat for the Troy Trojans in the ninth inning. There were two outs. There were men on first, second and third base. The Trojans were trailing the Worcester Ruby Legs 7-4. Lee Richmond was pitching.
What came next was remarkable, and you can only imagine how it was viewed by the people (and the ballplayers themselves) in attendance.
Connor hit a home run off of Richmond, scoring the four runs that the Trojans needed to win the game, 8-7.
The very first grand slam in the history of the major leagues was a bottom of the ninth, two-out, down three, walk off home run.
Amazing, no?
So…
STATUS: As hard as it is to believe, True.
Thanks to the Baseball Library for some help with dates!
Feel free (heck, I implore you!) to write in with your suggestions for future urban legends columns! My e-mail address is bcronin@legendsrevealed.com