Here is the latest in a series of examinations into urban legends about baseball and whether they are true or false. Click here to view an archive of the football urban legends featured so far.
BASEBALL URBAN LEGEND: Leo Durocher said "Nice guys finish last."
Leo Durocher (1905–1991) was a baseball player (a three-time All Star shortstop as a player) and manager for a number of teams, most notably the Brooklyn Dodgers and New York Giants. He managed the latter to a 1954 World Series victory. A Hall of Famer, Durocher won 2,909 games, fifth all-time amongst managers.
Durocher was quite a personality. He was known as "Leo the Lip" for the way that he, well, you know, gave people lip. Did his lip say "Nice guys finish last?" Read on…
Most prominently among those that Durocher gave lip were umpires…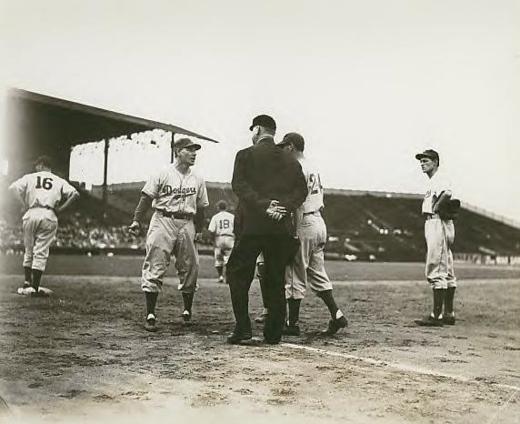 But the Commissioner of baseball also got the full Durocher treatment, as well. This did not help him much, as he was always rumored to be involved with a "bad element" (i.e. gamblers), and in 1947, after a particularly vicious feud with Yankees owner Larry MacPhail, Durocher was banned for the season for "association with known gamblers."
That season, of course, was quite famous as the season that Jackie Robinson broke the color barrier with Durocher's Dodgers. Durocher made clear his support for Robinson, even though he did not get to manage him that year.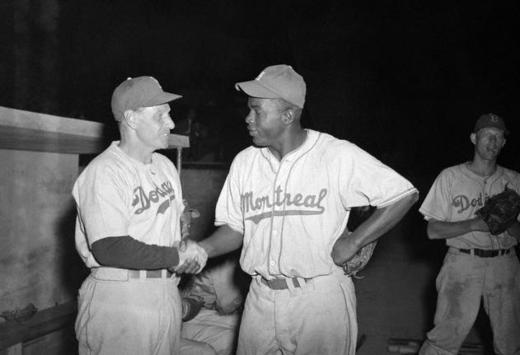 In any event, the event at issue happened in July 1946, after the Dodgers lost two out of three to their hated rivals, the Giants, who were not having a very good season (entering the series, the Giants were in eighth place out of eight teams – after taking two out of three, they were in seventh place).
According to Gerald Eskenazi's biography of Durocher, in an interview with Red Barber (the radio voice of the Dodgers) at some point in the series, Durocher was dismissive of the Giants. Barber asked Durocher why doesn't he try being a nice guy for a change. Durocher responded to Barber's barb with one of his own –
"Do you know a nicer guy in the world than Mel Ott [Manager of the Giants]? He's a nice guy. In last place. Where am I? In first place. I'm in first place. The nice guys are over there in last place, not in this dugout."
In Ralph Keyes' book, The Quote Verifier, he basically agrees with Eskenazi's take, only he has Durocher saying "seventh place."
Of the two, I think Eskenazi is more accurate, since the Giants WERE in last place until the third game had been played, and as part of both men's story included the fact that the interview took place BEFORE a game, Durocher wouldn't have referred to the Giants in seventh place, since they were not in seventh until AFTER the last game of the series.
More likely, reporters just changed Durocher's quote from last to seventh to reflect the change in the Giants' status after the game, most notably Frank Graham, who wrote a column titled "Leo Doesn't Like Nice Guys." That column was picked up by Baseball Digest, who turned Graham's "seventh place" to "last place." From there, the phrase was condensed until we got the famous "Nice guys finish last."
Durocher later claimed (after first claiming not to have said it at all) that his usage of it was meant to be ironic, pointing out that nice guys finishing last is NOT a causal situation (which the condensed quote certainly seems to say) but a non-correlative one, where it really just doesn't matter whether you are nice or not when it comes to winning.
Whether that was his intent or not, "Nice guys finish last" is how the phrase entered the American lexicon.
So, end of the day, did Durocher say "Nice guys finish last"?
I'm leaning towards false, as I think what people really are interested in is not "Did Durocher say something that basically meant the same thing as 'Nice guys finish last'?" but rather "Did Durocher say 'Nice guys finish last'?" in which case the answer is a definitive no.
So how about…
STATUS: If we're being sticklers, False.
Thanks to Gerald Eskenazi's book, The Lip: A Biography of Leo Durocher
and thanks to Ralph Keyes and his book, The Quote Verifier: Who Said What, Where, and When
for their respective takes on the quote situation. Click on the links to purchase their books!
Feel free (heck, I implore you!) to write in with your suggestions for future urban legends columns! My e-mail address is bcronin@legendsrevealed.com
Tags: 1954 World Series, Baseball Hall of Fame, Brooklyn Dodgers, Frank Graham, Gerald Eskenazi, Jackie Robinson, Larry MacPhai, Leo Durocher, Leo the Lip, Mel Ott, New York Giants, New York Yankees, Ralph Keyes, Red Barber, The Quote Verifier