Here is the latest in a series of examinations into urban legends about bull riding and whether they are true or false.
BULL RIDING URBAN LEGEND: Bull riders get bulls to buck by pulling on straps attached to the bull's testicles.
I'm not here to convince you that riding bulls is not an uncomfortable experience for the bulls.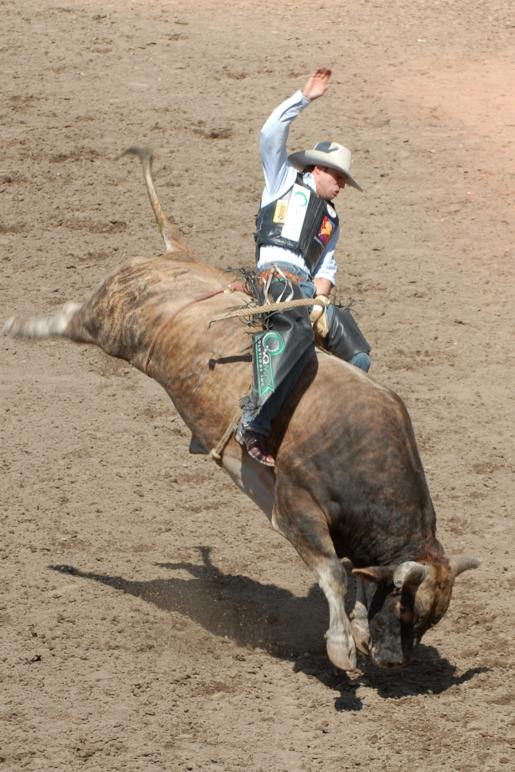 It almost certainly is.
However, there is a definite misconception as to one particular piece of bull riding equipment, and that is the flank strap.
The flank strap is a rope that is tied around the bull's flank (the lower torso of a bull, near its hind legs). The strap is there to encourage the bull to use its hind legs more in a bucking motion. One half of a bull rider's score is determined by how much the bull bucked while the rider is on the bull, so therefore there is a major incentive to get the bull to buck as much as possible (the other half of the score involves how well the bull rider controls the bull, and that can also include the rider's ability to MAKE the bull buck more).
Due to the fact that it makes the bulls buck, plus its close proximity to the genitals of the bull, many people believe that the flank strap is attached in some manner to the testicles of the bull (or designed in some way to irritate the bull's testicles).

That is not true. Besides the fact that the flank strap is really not THAT close to the bull's testicles, it just doesn't make common sense to mess with a bull's testicles. For one, these animals are valuable, and their semen is one of the most valuable aspects of them, so it is in the economic interest of their owners to keep their testicles safe. For another thing, if a bull's testicles was seriously yanked on, it more likely would react with pain rather than aggression, and therefore not buck as high. For a final thing, just to recap the very first bit – they're just clearly not placed near the testicles.
That does not mean that the flank strap cannot be seen as cruel to the animal. Many people DO feel that it is cruel to the animal.
Here, courtesy of People for the Ethical Treatment of Animals (PETA) is a picture of a bull wearing a flank strap…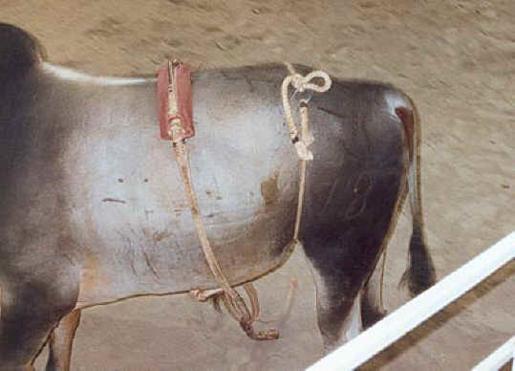 That's clearly not on its testicles, but it sure doesn't look like fun, now does it?
Do note that since that picture comes from PETA, there is a good chance that that is not a "typical" example of how flank straps hang on bulls – they're most likely not as tight as that. That said, I picked that particular picture because if even PETA concedes that the flank strap is not on a bull's testicles, then I think that's perhaps the best argument of them all.
The legend is…
STATUS: False
Feel free (heck, I implore you!) to write in with your suggestions for future urban legends columns! My e-mail address is bcronin@legendsrevealed.com