Here is the latest in a series of examinations into urban legends about football and whether they are true or false. Click here to view an archive of the football urban legends featured so far.
FOOTBALL URBAN LEGEND: Kurt Warner refused to appear on the cover of an issue of Sports Illustrated about the supposed "Sports Illustrated Cover Jinx."
The Sports Illustrated "Jinx" supposedly began in 1954, with the very first cover of Sports Illustrated, which featured the Milwaukee Braves' Eddie Mathews on the cover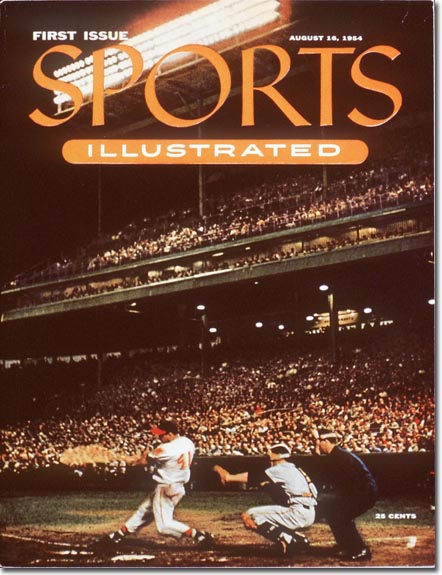 The Braves were on a nine-game winning streak at the time this August 16, 1954 cover went up. The Braves lost their next game on August 17 and then a week later, Mathews was hit by a pitch on his hand and missed seven games.
Some other random "examples" of the Jinx include…
Wilbur Wood, on the cover after going 13-3, proceeded to lose 8 of his next 9.
Carin Cone, unbeaten in the 100-meter backstroke leading up to the 1960 Olympic trials, failed to even qualify for the Olympics!
So back in 2002, Alexander Wolff did a feature story on the topic of the Jinx, and he basically showed that while obviously it did not seriously exist, he did at least note that a sports psychologist named Jim Loehr does think that there is something to the theory that athletes DO deal with "a failure to efficiently metabolize heightened expectations," and that appears to PERHAPS bear out in noting that the Jinx seems to apply to solo athletes like golfers more than athletes on teams.
But yeah, come on, jinxes don't exist.
That said, Wolff and Sports Illustrated had a funny reaction when they had Kurt Warner agree to appear on the cover about the jinx. The idea was that he would appear with a black cat. I believe the notion was that Warner wore #13, and that did not keep him from winning a Super Bowl and two MVPs (plus one of the more dramatic career turnarounds, going from stocking shelves in Cedar Falls to winning a Super Bowl within five year's time).
So what happened?

As it turns out, Warner decided to back out, so the cover of the issue in question, in January of 2002, had the following cover…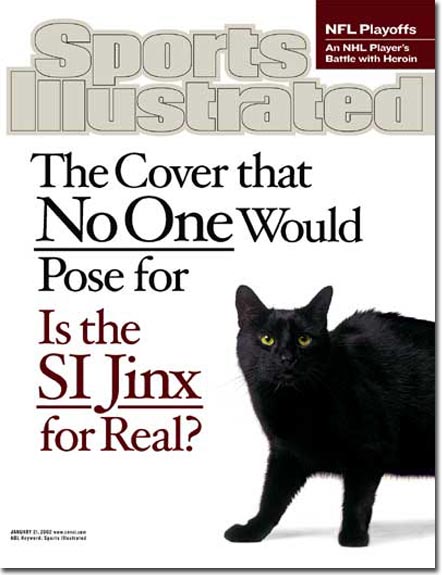 So the legend is…
STATUS: True
Thanks, of course, to the hard work by Alex Wolff in investigating the jinx!
Feel free (heck, I implore you!) to write in with your suggestions for future urban legends columns! My e-mail address is bcronin@legendsrevealed.com