Here is the latest in a series of examinations into urban legends about baseball and whether they are true or false. Click here to view an archive of the baseball urban legends featured so far.
BASEBALL URBAN LEGEND: Rob Ducey was traded for himself.
Baseball transactions can be awfully confusing sometimes, and perhaps never was it more confusing that the case of Rob Ducey's journey from the Philadelphia Phillies to the Toronto Blue Jays and back to the Phillies in 2000.
Ducey was drafted by the Toronto Blue Jays in 1984. He played for the Blue Jays from 1987-1992.
Here's his 1988 Topps baseball card…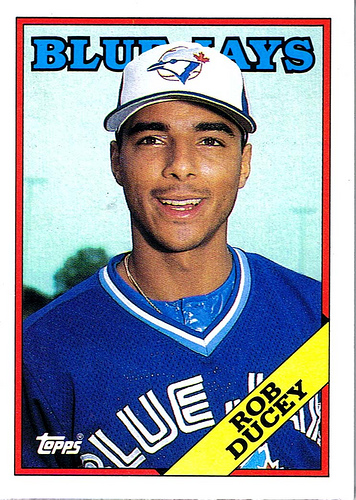 Ducey played for a few different teams before signing with the Philadelphia Phillies in December 1998.
After a season and a half with the Phillies, on July 26, 2000, Ducey was not hitting very well and was traded to the Blue Jays for a Player to be Named Later, a practice baseball has where the player in the trade is, well, named later (this is usually done when the deal is for minor league players who cannot be traded before a certain amount of time has passed in their service time – so they are "traded" in July but not officially traded until September).
On August 5, 2000, the Blue Jays traded a Player to Be Named Later to the Phillies for second baseman Micky Morandini.
Well, on August 7, it was revealed that Ducey was the Player to Be Named Later.
So seemingly, Ducey was the Player to Be Named Later that went from the Blue Jays to the Phillies for Ducey. So he was traded for himself!!

In reality, though, there were two separate deals. The Player to Be Named Later in the first Ducey deal was minor-leaguer John Sneed.
Then Ducey was traded back for Morandini.
So, yes, if you use mathematical logic, then you could possibly say that Sneed was traded for Morandini and Ducey was traded for himself, but the actual deals were two separate deals. Ducey to the Blue Jays for Sneed and then Morandini to the Blue Jays for Ducey.
Either way, it was an odd situation all around.
Ducey was cut by the Phillies in 2001, and after a stint with the Expos that year, ended his career.
Ducey is currently a scout for the Blue Jays. He's one of the few Canadian-born players to play for both the Blue Jays AND Expos, and the ONLY Canadian-born player to play for both teams AND the Canadian Olympic team.
So…
STATUS: False
Feel free (heck, I implore you!) to write in with your suggestions for future installments! My e-mail address is bcronin@legendsrevealed.com