SPORTS LEGEND: Veterans Stadium in Philadelphia had holes in the locker room of the Eagles cheerleaders where visiting players peeped through.
As time goes by, pretty much everything that reminds people of the good times they had in the past can cause nostalgia. So with that in mind, Philadelphia fans might think back about Veterans Stadium fondly, particularly Phillie fans who remember it as the place where the Philadelphia Philles won the 1980 World Series. And Philadelphia Eagles fans might remember it for…well, they had plenty of good wins there.
So in that sense, Veterans Stadium is well-remembered for being the home of the Eagles from 1971-2002 and the Phillies from 1971-2003.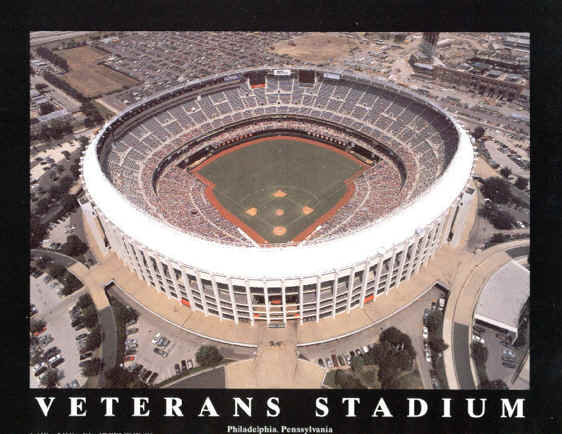 Now, in every other sense, Veterans Stadium is not going to be missed by anyone, as it was not a great stadium when it began, and by the time it neared its finish, it was a downright awful stadium, due to years of disrepair.
However, one particularly creepy aspect of the stadium was revealed near the end of the stadium's life.
Visiting players had drilled peep holes into the locker rooms of the Eagles' cheerleaders!!
From Mike Freeman's NFL column in the New York Times:
For perhaps as long as 10 years, players from teams using the visiting locker room at Veterans Stadium have spied on the Philadelphia Eagles' cheerleaders, peering through openings in doors and a window to catch a glimpse of the women getting dressed.

"We've been aware of certain rumors and we've taken precautions," said Marylou Tammaro, director of the cheerleading team. "I can assure you any talk about players as peeping Toms is just that, talk."

But several current and former N.F.L. players describe the ogling of the women as a sort of macho ritual. Perhaps dozens of players over the years have secretly spied on the Eagles' cheerleading squad, several players, agents and a team official with knowledge of the situation said.

The cheerleaders have attempted to secure the openings with masking tape and have painted over a small window that players were using to secretly view the women.

But despite those efforts, players say, the peeping continued sporadically into this season. At times, players on visiting teams got into shoving matches to catch a glimpse of the women.

No Eagles players were involved, players and agents said. Players maintain that many of the watchers were from Philadelphia's division foes in the N.F.C. East; two former Dallas Cowboys players say they observed the women.
I would not think that a former player would lie about something like that.
That's certainly something that everyone is happy to see gone in Lincoln Financial Field, the Eagles' current stadium.
STATUS: Apparently True
Feel free (heck, I implore you!) to write in with your suggestions for future installments! My e-mail address is bcronin@legendsrevealed.com