Here is the latest in a series of examinations into urban legends about basketball and whether they are true or false. Click here to view an archive of the basketball urban legends featured so far.
SPORTS LEGEND: Future NFL Commissioner Paul Tagliabue was Georgetown's career leader in total rebounds and rebounds per game when he graduated.
Paul Tagliabue was the Commissioner of the National Football League for seventeen years from 1989 until his retirement in 2006 (before becoming Commissioner, Tagliabue was the General Counsel for the NFL).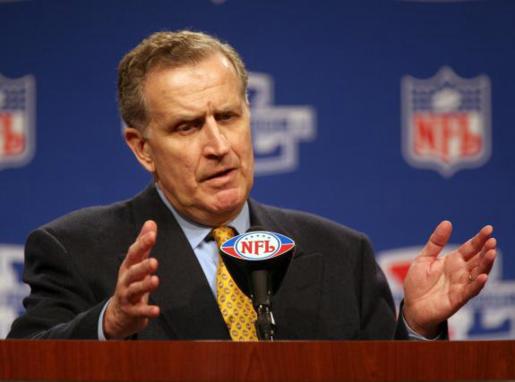 However, what you very rarely hear about Paul Tagliabue (so much so that it is not even mentioned at all on his Wikipedia page, as of May 19th, 2009) is that he was a great BASKETBALL player when he was attending Georgetown University in the late 1950s/early 1960s.
In fact, while looking into the Mets/Red Sox legend from earlier today, I read the following in a book about Mets fans by Rich Wolfe, For Mets Fans Only
:
Paul Tagliabue once held the career rebounding record at Georgetown. The mark was broken by Patrick Ewing in 1985.
I found that fascinating – that the future commissioner of the NFL was the career rebounding leader at Georgetown!
However, it's not true.

Tagliabue WAS a great player for Georgetown, and he was an excellent rebounder.
Here he is in the team photos for his three years at Georgetown (Tagliabue is #32 – on the second photo, he is is the third guy from the bottom of the left column)…
1959-60
1960-61
1961-62
However, he never held the career rebounding record, either in total rebounds or rebounds per game.
That honor went to a player who was just ahead of Tagliabue at Georgetown, Joe Missett.
Here's Missett on the Georgetown 1955-56 squad (Missett is #22 – the second guy in the front row).
Tagliabue graduated with 584 total rebounds and a 9.2 rebounds per game average.
Both of those were excellent, but both were below Missett's 688 and 10.8, respectively.
By the way, both men were not even beaten first by Ewing, since well before Ewing, the NCAA began to allow freshmen to play, allowing players FOUR years to amass rebounds rather than three for Tagliabue and Missett.
However, even BEFORE then, Mike Laughna passed Tagliabue and Missett in total rebounds (with 833) while tying Missett for rebounds per game. And soon after that, Merlin Wilson (who DID play all four years) became the all-time leader in rebounds per game with 11.4 rebounds per game.
THAT record, remarkably enough, still DOES remain today, even with some of the amazing rebounders who have played for Georgetown since Wilson graduated in 1976, including Jerome Williams, Alonzo Mourning, Dikembe Mutombo and Patrick Ewing, who does, indeed, still hold the record for most total rebounds at Georgetown with a stunning 1316.
Again, do note that modern players play more games than the players of the past, and that's not counting the whole "playing a whole extra season" thing.
Whatever the case, no, Paul Tagliabue never was the career leader in rebounds at Georgetown.
About a BAZILLION thanks to one of the most awesome sports research sites out there, the Georgetown Basketball History Project, for all the information, stats and photos! SUCH an awesome site!
The legend is….
STATUS: False
Feel free (heck, I implore you!) to write in with your suggestions for future installments! My e-mail address is bcronin@legendsrevealed.com