SPORTS LEGEND: At least two players of the Washington Nationals wore jerseys with the team name spelled incorrectly.
The Washington Nationals are a baseball team that play in Washington DC. They are in the Eastern Division of the National League.
This is what their jerseys are supposed to look like…
And here is what they looked like on star players Adam Dunn and Ryan Zimmerman in an April 17, 2009 loss to the Florida Marlins…
And no, the "O" is not hidden under the buttons…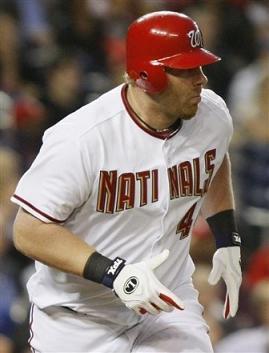 On April 23, 2009 the Majestic Athletic company apologized to the Nationals for the error, according to ESPN.com…
"All of us at Majestic Athletic want to apologize to both the Washington Nationals and Major League Baseball for accidentally omitting the 'o' in two Nationals jerseys," Majestic Athletic president Jim Pisani said in a statement distributed at Nationals Park on Tuesday.

"We take 100 percent responsibility for this event and we regret any embarrassment for the Nationals organization, players and fans," the statement continued.
The normally weak-hitting Nationals (third from last in the National League in runs in 2008) actually did better on offense in 2009 (ending up JUST below the National League average), so that takes away the jokes from Washington fans who would like to say, "So THAT's where the 'O' went!"
STATUS: True
Thanks once again to bret3d for the clip!
Feel free (heck, I implore you!) to write in with your suggestions for future installments! My e-mail address is bcronin@legendsrevealed.com