SPORTS LEGEND: Los Angeles Dodger Manager Tommy Lasorda has a rather…interesting response to a reporter's question about the performance of Mets outfielder Dave Kingman.
This is a really interesting situation, due to the serendipitous nature of it all.
Okay, now as the story goes, Dave Kingman of the New York Mets torched the Los Angeles Dodgers for 3 home runs and 8 runs batted in in an 11-0 Mets victory on June 4, 1976.
The great web site Dodger Blues has the story…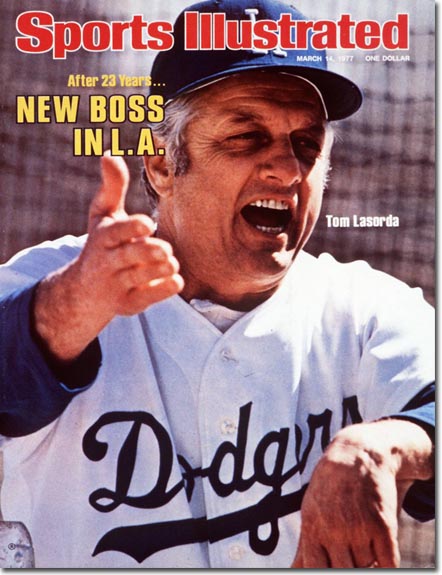 After a game in which Dave Kingman hit three home runs to beat the Dodgers (the first of two 3-HR games that Kingman would have against the Dodgers), Tommy Lasorda was asked by reporter Paul Olden what he thought of Kingman's performance. The rest is history:

Reporter: Can you give us just a few basic comments about your feelings on the game?

Lasorda: Well, naturally I feel bad about losing a ball game like that, there's no way you should lose that ball game. An', it, uh, just doesn't make sense.

R: What's your opinion of Kingman's performance?

TL: What's my opinion of Kingman's performance!? What the BLEEP do you think is my opinion of it? I think it was BLEEPING BLEEP. Put that in, I don't BLEEP. Opinion of his performance!!? BLEEP, he beat us with three BLEEPING home runs! What the BLEEP do you mean, "What is my opinion of his performance?" How could you ask me a question like that, "What is my opinion of his performance?" BLEEP, he hit three home runs! BLEEP. I'm BLEEPING pissed off to lose that BLEEPING game. And you ask me my opinion of his performance! BLEEP. That's a tough question to ask me, isn't it? "What is my opinion of his performance?"

R: Yes, it is. I asked it, and you gave me an answer…

TL: Well, I didn't give you a good answer because I'm mad, but I mean…

R: Well, is wasn't a good question…

TL: That's a tough question to ask me right now, "What is my opinion of his performance." I mean, you want me to tell you what my opinion of his performance is…

R: You just did…

TL: That's right. BLEEP. Guy hits three home runs against us. BLEEP
Click here to hear the whole thing.
The story's a great story, and I was just going to write it up as such, as "True."
But then it occurred to me – hey, wasn't 1977 Tommy Lasorda's first year as the Dodgers manager?
And I checked, and yes, as the Sports Illustrated above shows, Lasorda did not become manager until 1977.
He WAS a coach in 1976, but that interview sure doesn't sound like the interview a reporter and a third base coach would have, does it? That's clearly a managerial Q&A.
So, of course, naturally, I checked Kingman's game logs (at the great website baseballreference.com) and, sure enough, Kingman (as Dodger Blues does allude to) DID have another three homer/eight RBI game against the Dodgers on May 14, 1978 as a member of the Chicago Cubs.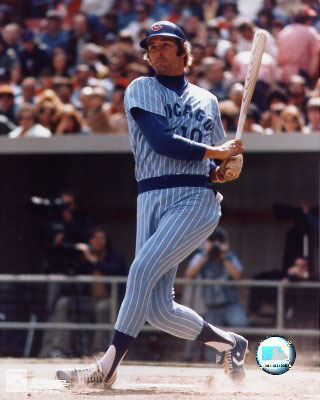 Obviously, in 1978, Lasorda WAS the manager.
In addition, in the 1976 game, the Mets won 11-0. In THIS game, however, the Dodgers lost in the FIFTEENTH inning, 10-7. How did they lose? Well, first off, Dave Kingman hits his second homer of the game, a 2-run shot, to tie the game in the ninth inning, 7-7. Then he hits a 3-run homer in the top of the fifteenth to win the game for the Cubs.
Now ask yourself – which scenario seems more likely that a guy would be irate over a question about Dave Kingman?
It's clear – May 14, 1978 is when that recording is from, not June 4, 1976.
Now here's the serendipitous kicker! So I'm working on this bit the other day, researching it, getting it ready to go. And what do I find?
THIS piece on a neat baseball site called Diamond Fans.
The guy Ted there had also made the same discovery. Only get this – do you know WHEN he made the discovery?
May 19th, 2009!!!!! Just TWO DAYS before I deduced it myself!!! That's some freaky stuff right there, right? TWO DAYS BEFORE!!! Ted also got some extra info, including the fact that Lasorda has been asked about the incident, and while he confirms the 1976 date, he also describes the 1978 game! So clearly, he's just agreeing with the people who tell him it was 1976 even though it's obviously 1978.
So anyhow, naturally…
STATUS: False
Thanks to Dodger Blues for the transcript and thanks to Ted for making me feel a lot less special for figuring it out! 🙂
By the way, Paul Olden is now the stadium announcer for Yankee Stadium. That's neither here nor there, but I found it interesting!
Feel free (heck, I implore you!) to write in with your suggestions for future installments! My e-mail address is [email protected]