Here is the latest in a series of examinations into urban legends about the Olympics and Olympians and whether they are true or false. Click here to view an archive of the Olympic urban legends featured so far.
OLYMPIC URBAN LEGEND: Joe Frazier qualified for the Olympics due to Buster Mathis suffering an injury – an injury Mathis suffered when he defeated Frazier in the qualifying rounds!!
Hard luck losses are typical, but rarer are hard luck WINS, and that's what happened to boxer Buster Mathis in the qualifying rounds of the 1964 Olympics.

Mathis was trying to qualify to compete in the Olympics as the American heavyweight contender.
The 300-pound Mathis ended up winning the chance by defeating fellow American boxer Joe Frazier in the qualifiers.
However, during the fight, Mathis broke his finger on Frazier.
So Mathis had to pull out, and the man he broke his finger on, Joe Frazier, took his spot on the U.S. squad and went on to win the Gold Medal in the 1964 Olympics!
Amusingly enough, Frazier ended up breaking HIS thumb in the second round of the Olympics! Knowing what happened to Mathis, Frazier told no one about it until after the Olympics were finished!
After the Olympics, Mathis and Frazier both had strong professional careers. The pair matched up again in 1968 when they fought for the right to take over the heavyweight crown vacated by Muhammed Ali (who was stripped of his crown for his refusal to go to Vietnam).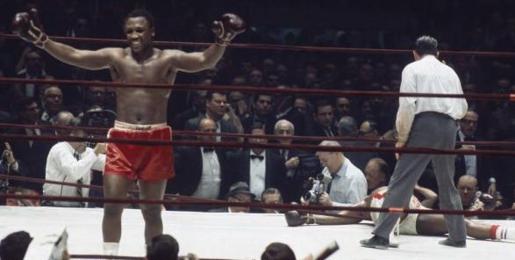 Mathis also lost to Ali in 1971.
Sadly, after his career was over, Mathis suffered a number of health problems, including an eating problem that saw his weight balloon to over 550 pounds by the time he died in 1995 of a heart attack.
The legend is…
STATUS: True
Feel free (heck, I implore you!) to write in with your suggestions for future urban legends columns! My e-mail address is bcronin@legendsrevealed.com
Tags: Buster Mathis, Gold Medal, Joe Frazier, Muhammed Ali