Here is the latest in a series of examinations into urban legends about football and whether they are true or false. Click here to view an archive of the football urban legends featured so far.
FOOTBALL URBAN LEGEND: Ryan Fitzpatrick scored a perfect 50 on his Wonderlic test.
Ryan Fitzpatrick was drafted by the St. Louis Rams in the seventh round of the 2005 NFL Draft. He played college football at Harvard University.
Fitzpatrick has been a quarterback in the NFL ever since 2005, first as a back-up for the Rams then a back-up for the Bengals and currently as the staring quarterback for the Buffalo Bills.
Fitzpatrick made headlines in 2005 when news leaked about his performance on the Wonderlic test.
The Wonderlic test is a standard aptitude test that many professions give prospective employees, but it has gained most of its fame from the fact that the NFL gives it to players eligible to be drafted.
Here are some sample questions (courtesy of the Professor Money website):
1. Look at the row of numbers below. What number should come next? ___________

8 4 2 1 1/2 1/4 ?

2. Assume the first two statements are true.

1. The boy plays baseball.
2. All baseball players wear hats.
3. The boy wears a hat

Is the final one:
True
False
Not Certain

3. Paper sells for 21 cents per pad. What will four pads cost? ___________

4. How many of the five pairs listed below are exact duplicates? ___________

Nieman, K. M. / Neiman, K. M.

Thomas, G. K. / Thomas, C. K.

Hoff, J. P. / Hoff, J. P.

Pino, L. R. / Pina, L. R.

Warner, T. S. / Wanner, T. S.

5. PRESENT/RESERVE, Do these words:

have similar meanings;
have contradictory meaning;
mean neither the same nor opposite?
While they might not be the most difficult questions in the world, there IS a speed element to the test – it is how many questions you can answer in twelve minutes. Since there are 50 questions, that's not a lot of time, even if the questions are simple.
As a result, very few players ever score perfect scores. A very smart person wouldn't automatically score a perfect 50.
When Fitzpatrick was drafted, a report on the NFL's website said that he had scored a perfect 50.
Is that true?

That was incorrect, as Fitzpatrick noted that he had left off an answer, although Fitzpatrick WAS notable in the sense that he answered the 49 questions that he did answer in 9 minutes (why he wouldn't answer the last question if he had 3 minutes left is beyond me).
Punter/wide receiver Pat McInally (also a Harvard graduate) is the only NFL player to ever be confirmed as receiving a 50 on the Wonderlic.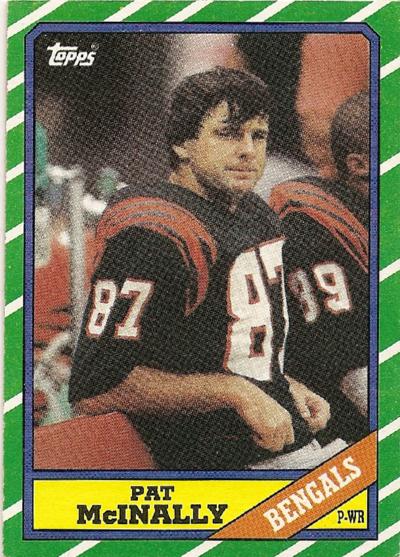 The legend is…
STATUS: False
Feel free (heck, I implore you!) to write in with your suggestions for future urban legends columns! My e-mail address is bcronin@legendsrevealed.com
Tags: Buffalo Bills, Cincinnati Bengals, Harvard University, Pat McInally, Ryan Fitzpatrick, St. Louis Rams, Wonderlic test