Here is the latest in a series of examinations into urban legends about basketball and whether they are true or false. Click here to view an archive of the basketball urban legends featured so far.
BASKETBALL URBAN LEGEND: Del Harris once set a pick on Michael Adams during a game!
Michael Adams probably had the best year of his career in the 1990-91 season, while with the Denver Nuggets.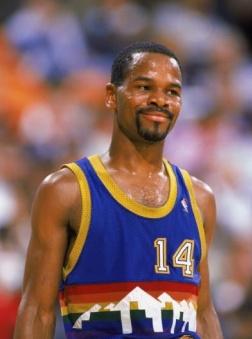 And he was having a particularly good game against the Milwaukee Bucks on January 29, 1991, as the guard went for 41 points in the game!
Well, Bucks coach Del Harris was none too pleased with this.
HOW displeased? Well, read on to find out!

Towards the end of the game, when Harris grew particularly angry that no one seemed to be getting in front of Adams to block his path to the basket, Harris HIMSELF stepped on to the court!
And there, he unbelievably stayed in front of Adams…
Who promptly ran in to him…
And was "knocked over," which was a good plan by Adams, because he wanted to make sure he would get the foul shots and the ejection of Harris that undoubtedly would happen if the opposing coach interacts with the other team's players…
Hopefully Adams didn't actually think he was convincing anyone that Harris honestly knocked him down – as if Harris was like a brick wall (Harris was 51 years old at the time).
My favorite bit is this shot, where Adams is shown pointing to Harris, as if the referees would have missed the opposing coach checking a player on the other team.
Gee, thanks for the heads up, Michael!
Naturally, Harris was ejected (and the Nuggets got two free throws) and the Nuggets pulled out the victory, 126-122.
The legend is…
STATUS: True
Feel free (heck, I implore you!) to write in with your suggestions for future urban legends columns! My e-mail address is bcronin@legendsrevealed.com