Here is the latest in a series of examinations into urban legends about basketball and whether they are true or false. Click here to view an archive of the basketball urban legends featured so far.
BASKETBALL URBAN LEGEND: Wilt Chamberlain had an infamously poor reaction to his coach's invention of morning shootarounds.
Wilt Chamberlain was one of the most enigmatic basketball players of the 20th Century. Just based on talent alone, Chamberlain should have been the greatest player in the history of the National Basketball Association (NBA) (and as it currently stands, he is certainly in the top ten anyways), but Chamberlain tended to look at basketball a lot differently than some of his Hall of Fame peers. Chamberlain himself described the difference between himself and his most famous rival, Celtics center Bill Russell (winner of eleven NBA championships to Chamberlain's two) as the fact that Russell would vomit before a game due to being so worried about winning while Chamberlain never wanted to win that badly, and he felt that he was happier NOT wanting to win that badly. He had varied interests outside of basketball (particularly a fondness for women that has since become legendary) – basketball was never the end all/be all to him and he liked it that way. He wanted to win, of course, heck, he wanted to win a lot – just not to the same extent that Russell did – and that was fine with Chamberlain.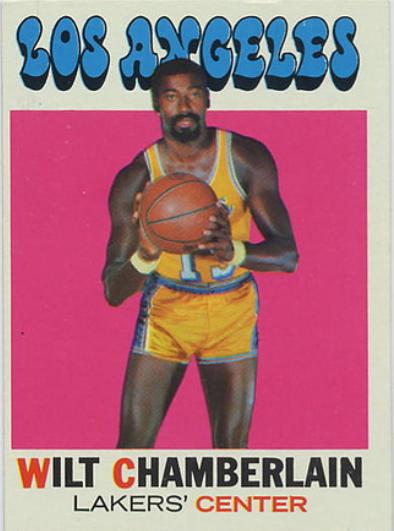 That attitude (and his penchant for late night partying) led to a famous story involving Chamberlain's first season with Bill Sharman as the head coach of the Los Angeles Lakers (1971-72). That season, Sharman instituted something that had never been done in the NBA – he required his team to come in during the morning of a game to do mandatory morning shootarounds.
As legendary basketball columnist Sam Smith relays the story:
The creation of the shootaround, ostensibly to better prepare for games but also to perhaps push players to ending their nights out earlier, is credited to then Lakers coach Bill Sharman in 1971. My favorite story about that was with Wilt Chamberlain on that team. Wilt supposedly told Sharman he comes to the arena once a day and Sharman can decide when. Wilt pretty much eschewed the shootaround.
First off, real or fake, good attitude or bad, the way Chamberlain's quote is most often told "You tell Bill Sharman that I'll go to the arena one time today. Either now or for the game tonight. He can pick" is a great line.
But is it true?

Not according to Sharman, who told Fran Blinebury (and many others over the years, I just happen to be quoting a great Blinebury article from the Houston Chronicle in 2008), "I've heard that story hundreds of times over the years. It's a great story. But it never happened. I talked to Wilt right before camp, and he said, 'You know, Bill, I usually don't get out of bed until noon. But if you think it will help, I'll go along if we win.' "
Sharman has maintained that same story for years in many different articles and books, noting that he was actually impressed by how much Chamberlain WAS willing to work with him during his first season coaching the Lakers.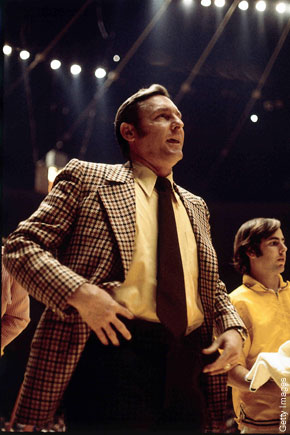 Now, beyond just the quote, though, I think there are two other lesser "legends" about the morning shootaround that need to be cleared up.
One, that Chamberlain eschewed the shootarounds. Well, as Sharman just noted, no he did not (Sharman usually claims that Chamberlain missed between one and three shootarounds during the 1971-72 season).
But secondly, and more importantly, the motivation behind the shootaround has been a matter of some myth-making as well, particularly the part about how Sharman came up with the idea specifically TO try to curtail Chamberlain's late-night activities.
That is not the case. Besides the fact that Sharman has said as much over the years, Sharman actually had been doing mandatory morning shootarounds since he first began coaching in the American Basketball League (ABL) (a low level competing basketball league during the 1960s) in 1962 with the Cleveland Pipers (owned by George Steinbrenner). He won the ABL title that season, and so he made the shootarounds part of his coaching routine, from the ABL to the American Basketball Association (ABA) ( a higher profile competing basketball league from the late 1960s/early 1970s), where Sharman coached the Utah Stars to an ABA championship in 1970.
So when he signed on with the Lakers as Head Coach in 1970, the morning shootaround was part of the Sharman package. It was not something he invented to deal with Chamberlain. Interestingly enough, Sharman came up with the concept back when he was a player in the NBA during the 1950s. He would often have trouble sleeping the night before a game, so he would get up early and do a morning shootaround, and he always found that it cleared his nerves. He felt that it would do the same for the players he coached.
How did it work for the Lakers in 1971-72?
Not so bad – they went on to won 69 out of 82 games, a record for wins that stood for more than two decades. They also recored an NBA-record 33 straight victories (still a record to this day). And, naturally, they also won the 1972 NBA Championship.
Understandably enough, the morning shootaround quickly became something every team used. It was an NBA staple until very recently, when some teams began to phase the shootaround out (beginning with the San Antonio Spurs, whose coach Gregg Popovich feels that his veteran-heavy team can be trusted to work out on their own on their own schedule). Still, the majority of teams continue to use it regularly – and it might never have caught had Chamberlain not gone along with Sharman's plan – and while we don't necessarily have to give Chamberlain CREDIT for doing something to help the team (as that's what professional athletes are SUPPOSED to do), we should at least be sure not to DIScredit him, either. In this instance, Chamberlain was quite willing to do what it took to win – and the results speak for themselves.
The legend is…
STATUS: False
Thanks to Sam Smith, Fran Blinebury and Howard Beck (of the New York Times) for the information needed for this piece!
Feel free (heck, I implore you!) to write in with your suggestions for future urban legends columns! My e-mail address is bcronin@legendsrevealed.com