Here is the latest in a series of examinations into urban legends about hockey and whether they are true or false. Click here to view an archive of the hockey urban legends featured so far.
HOCKEY URBAN LEGEND: Bruce Gamble died during an Old Timer's Game.
Bruce Gamble was a hockey goalie who was best known for his time with the Toronto Maple Leafs, for whom he played for from 1966-67 until the middle of the 1969-70 season.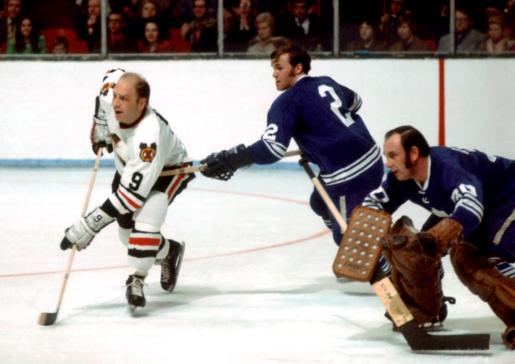 During that season, he was traded to the Philadelphia Flyers in exchange for Bernie Parent.
He would play until the 1972 season for the Flyers before retiring at the age of 34 because of heart problems. He actually had his first heart attack after a Flyers game (the onset of the heart attack occurred during the game!).
What happened next was quite sad but is also misreported…

Twelve years later, Gamble was playing with an "Old Timers team," the Niagara Falls Flames, when he experienced chest pains after a night practice. He was rushed to the hospital where he died of a heart attack at the age of 46.
It is often reported, telephone game style, as him dying while playing in an Old Timers Game.
Here's a Flyers site saying as much:
In September, Gamble officially announced his retirement as a player and accepted a position with the organization as a scout in the Toronto area. Gamble died at the age of 43 during an old-timers game played December 30, 1982.
By the way, the date of his death is wrong in MANY places – lots of places say 1982, but he actually died in 1984.
The legend is…
STATUS: False
Feel free (heck, I implore you!) to write in with your suggestions for future urban legends columns! My e-mail address is bcronin@legendsrevealed.com