Here is the latest in a series of examinations into urban legends about baseball and whether they are true or false. Click here to view an archive of the baseball urban legends featured so far.
BASEBALL LEGEND: Yankee outfielder Brett Gardner didn't even make the College of Charleston's baseball team as a walk-on!
Baseball history is filled with players who did not fit into the prototypical mold of what a star baseball player "should" look like. Athletes tend to fall somewhere on the physique scale between guys like Alex Rodriguez (who looked like he could play Major League Baseball when he was 15 years old) and David Eckstein (who can't seem to get an article written about him that doesn't mention the fact that he's five foot seven inches tall). The Yankees' Brett Gardner falls a bit more towards Eckstein on that scale. The slender, five foot ten Gardner certainly does not cut an imposing figure on the baseball diamond, but whatever he lacks in the "fear factor," he makes up for in the "baseball playing ability factor."
Gardner has been a mainstay in the Yankees lineup since 2010. His speed has led to him appearing twice in the Yankees' top ten list for the most stolen bases in a single season and currently has the sixth most stolen bases in Yankee history (he will surely climb up that list over the rest of his career, as he is signed with the Yankees through 2018 and is just sixty stolen bases away from #3 on the list. He has an outside chance of passing Derek Jeter for #1 on the Yankee all-time stolen base list. He currently trails Jeter by 166 stolen bases).
And yet, since Gardner did not "look the part" coming out of his small South Carolina high school, Holly Hill Academy, he did not receive a single baseball scholarship offer from a NCAA Division 1 school. That's not that strange, as neither did Eckstein, but Eckstein walked on to the Florida Gators baseball squad and made the team, later receiving a scholarship from Florida. Florida has one of the best college baseball programs in the country.
Gardner, meanwhile, tried to walk on to the College of Charleston, a NCAA Division 1 school that is known more for their academics than for their athletics.
And he didn't make the team!
Read on to find out what happened!

Brett's father, Jerry Gardner, was a professional baseball player, as well. A center fielder like his son, Jerry made it all the way to Double A ball in the Philadelphia Phillies system. After his son ended his high school career at Holly Hill without getting any offers, the elder Gardner sent a letter to Scott Foxhall, then the recruiting coordinator for the College of Charleston (which is about fifty miles from Holly Hill, SC), asking him to take a look at his son. Foxhall went to go watch Gardner play in an American Legion game in North Charleston. He was struck by Gardner's unusual speed, but that was about it. Still, he decided to allow Gardner a try out with the Charleston Cougars.
Gardner showed up, and while he did run the 60 yard dash in an impressive 6.6 seconds, he did nothing else to make himself stand out, as he didn't even hit a ball out of the infield and he also made a poor throw from right field. Gardner himself recalled the situation in a 2009 New York Times article by Jack Curry as, "If I was a coach, I'd be like, This kid's not going to cut it." And that's exactly what Foxhall and the Cougars felt, and Gardner did not make the team.
Gardner surprised the team by showing up at the next practice. He had brought along another letter from his father. Jerry asked if Brett could at least be allowed to practice with the Cougars. Foxhall and head coach John Pawlowski figured it couldn't hurt to let him work out with the team, and if he were to play in some of their fall scrimmages, that'd be fair enough, as well.
The rest, as you imagine, is pretty much history (Foxhall later recalled, "He never left our field without his uniform being filthy"). Gardner went on to have a stellar career at Charleston, making the All-Southern Conference team twice and was even named to the All-American third team in his senior year!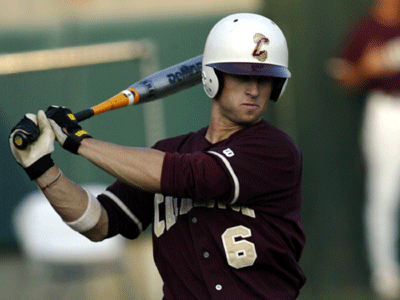 He was drafted by the Yankees with the second-to-last pick of the third round of the 2005 Major League Baseball Draft.
And now he's the starting left fielder for the New York Yankees (and was in the outfield when the Yankees won the World Series in 2009). Not bad for a guy who couldn't make the College of Charleston his first try, eh?
The legend is…
STATUS: Essentially True, but with the obvious qualifier that he eventually made the team.
Thanks to the College of Charleston for a lot of the information for this piece, and thanks also to Jack Curry for that great Gardner quote.
Feel free (heck, I implore you!) to write in with your suggestions for future urban legends columns! My e-mail address is bcronin@legendsrevealed.com