Here is the latest in a series of examinations into urban legends about hockey and whether they are true or false. Click here to view an archive of the hockey urban legends featured so far.
HOCKEY URBAN LEGEND: An NHL team drafted a fake player as a joke.
George "Punch" Imlach was not someone you would typically think of as a funny guy.
As the General Manager and Head Coach of the Toronto Maple Leafs, Imlach was very successful, but he was also very hard nosed.
After being let go by the Leafs (after winning three Stanley Cups with them during the 1960s), Imlach became the General Manager and Head Coach of the expansion NHL team, the Buffalo Sabres.
Here he is with some of his Sabre players…
After suffering a heart attack in 1972, Imlach stepped down as coach but remained General Manager.
In the 1974 NHL Entry Draft, Imlach showed off his funny side (or at least his petty side). At the time, the NHL was worried about the rival league, the World Hockey Association, so they decided to do the Entry Draft over the telephone, so as to not allow the WHA to know what they were doing (I don't precisely get the logic in that, but hey, whatever). As you might imagine, this could get pretty darn tedious, so in a joking bit of rebellion, Imlach decided to just MAKE UP a draft pick.
So with the 183rd pick of the NHL Draft, the Buffalo Sabres selected Taro Tsujimoto of the Japanese Hockey League's Tokyo Katanas (Katanas and Sabres, of course, are both swords). Taro Tsujimoto, naturally enough, did not exist.
Imlach just picked a name out of the phone book.
The League was not amused when they found out a week or so later, and the pick was wiped from the books and is officially listed as an "invalid pick."
Taro Tsujimoto, of course, has become a bit of a cult icon in Buffalo, sort of like an invisible mascot!

He even got a fake rookie card!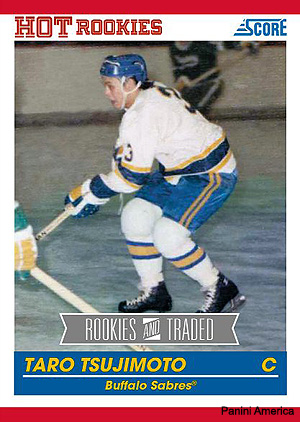 The legend is…
STATUS: True
Feel free (heck, I implore you!) to write in with your suggestions for future urban legends columns! My e-mail address is bcronin@legendsrevealed.com