Here is the latest in a series of examinations into urban legends about football and whether they are true or false. Click here to view an archive of the football urban legends featured so far.
FOOTBALL URBAN LEGEND: A waived player once pulled a gun on his general manager.
In November of 1968, Houston Oilers general manager Dan Klosterman (pictured here…)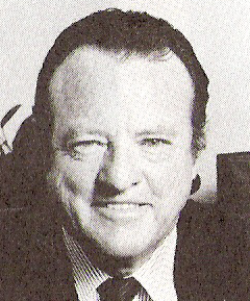 was at the Oilers team complex when a former player, Charles Lockhart, entered. Lockhart had been waived by the Oilers before the season.
Lockhart had suffered a shoulder injury while in training camp with the Oilers. He had an operation. According to NFL rules, if a player was still injured, he would be owed his full salary. The Oilers claimed that the surgery fixed Lockhart. Lockhart disagreed. He talked to the NFL Commissioner's Office about the issue and they said he had to talk to the Oilers about it.
He talked, all right, and THEN some!

After Klosterman refused to give him his money, the 23-year-old former Texas State standout (younger brother of New York Giant Pro-Bowler Carl "Spider" Lockhart) pulled a gun on Klosterman. Tom Williams, an Oiler scout, saw the incident occurring and shouted to Lockhart to stop. He jumped on Lockhart and disarmed him. Klosterman amusingly stated about Williams, "He's not only a great talent scout but he saves general manager's lives!"
Lockhart later stated that he never would have actually used the gun. Klosterman did not pursue an assault or attempted murder charge. Lockhart ended up serving three months in jail for carrying a pistol.
Crazy stuff.
The legend is…
STATUS: True
Feel free (heck, I implore you!) to write in with your suggestions for future installments! My e-mail address is bcronin@legendsrevealed.com