Here is the latest in a series of examinations into urban legends about basketball and whether they are true or false. Click here to view an archive of the basketball urban legends featured so far.
BASKETBALL URBAN LEGEND: Allergies allowed the Detroit Pistons to, in effect, steal Dennis Rodman in the 1986 NBA Draft.
During Season 8 of the NBC TV series Celebrity Apprentice in 2009, Dennis Rodman missed one of the weekly competitions on the program. When later asked why he was not able to do the task, Rodman explained that he had severe allergies that knocked him out for the count. His fellow contestants doubted his story, claiming instead that Rodman had been partying and that he was hungover not suffering from allergies. I certainly cannot tell you whether Rodman was telling the truth on the show, but I can say that Rodman does, indeed, suffer from severe allergies. Rodman also has asthma, and his allergies can cause a terrible reaction with his asthma. While Rodman managed to control his allergies and his asthma long enough to have a Hall of Fame career in the National Basketball Association (NBA), it was due to his allergies that Rodman became one of the biggest steals in NBA Draft history.

Dennis Rodman was a late bloomer when it came to basketball. Growing up in the Dallas area, Rodman was too short to play on his high school basketball team (he was only 5 feet 6 inches as a freshman). After he graduated from high school, he took a job as a janitor at a local airport. However, a growth spurt that took him all the way to 6 feet 6 inches tall made him decide to give basketball one more chance. He attended Cooke County College in Gainesville, Texas for a semester. He played for their basketball team and averaged 17.6 points and 13.3 rebounds. Although he was only there for a semester, he showed enough promise that he got a spot on the basketball team at Southeastern Olkahoma State University, a member of the National Association of Intercollegiate Athletics (NAIA). Rodman excelled at SOSU for his three seasons there, averaging 25.7 points and 15.7 rebounds as he was named to the All-NAIA team in all three seasons.
As graduation approached, Rodman began to prepare himself for a chance at a career in professional basketball. He attended the Portsmouth Invitational Tournament in Portsmouth, Virginia. The Portsmouth Invitational Tournament is the only pre-draft tournament that only allows senior students to participate. As a result, in recent years it has developed a reputation of being a place where the fringe players compete – the players who really need to impress scouts to have a chance of being drafted. For instance, of the 64 participants from the 2015 tournament (it is a four day tournament made up of eight teams of eight players), only five of them were drafted in the 2015 NBA Draft, although one of them, tournament MVP Jimmy Butler, was drafted in the first round by the Chicago Bulls.
Obviously, back in 1985, the Tournament was a bigger deal because there were more good players who would stay in college for all four years, but even in 1985, Portsmouth was not considered the cream of the pre-draft crop. So with this in mind, when Dennis Rodman dominated the 1986 Portsmouth Invitational Tournament, winning MVP honors, he definitely caught a lot of attention, but tat attention was simply received with the proverbial grain of salt because of what was considered a lesser level of talent in the Tournament. When Rodman then followed up his performance at Portsmouth with horrible performances at the pre-draft workouts in Hawaii and Chicago, teams that were hot for the young forward were now cool on Rodman. The conventional wisdom was that Rodman was faltering as the level of competition increased. The Detroit Pistons had been all over Rodman from even before the initial workouts and following his dominant performance at Portsmouth they were heavily considering taking him with their first round pick, which was the #11 overall pick. But then came the later two workouts. Pistons General Manager Jack McCloskey recalled, "Everybody saw him in Portsmouth – he was MVP for the whole tournament. But his playing went down when he went out to Hawaii and then when he went to Chicago. I said, 'Geez, this isn't the same guy.'" Luckily for the Pistons, they had an ace in the hole. Rodman's agent Bill Pollack was good friends with the Pistons' trainer, Mike Abdenour, and during the Chicago workouts, Pollack invited Abdenour to Rodman's room. Abdenour later recalled, "Dennis had allergies to almost everything. Cat hair, you name it. In Chicago, it was so hot and humid, the kid could hardly breathe, let alone play basketball."
Fellow player John Salley roomed with Rodman at the Hawaii tournament, and he recalled that when he entered the room they shared, Rodman was already in there and "he has the sliding door open, the air conditioning on and he has asthma and he's under the covers, watching cartoons, shivering. And I'm going, 'What are you doing?' 'I'm sick.' 'What kind of sick? I ain't got time to be sick.'" Rodman explained his situation and told Salley that in return for Salley allowing their living arrangement to remain as it was, Rodman would defer to Salley the entire tournament and help make Salley look good. Salley agreed and Salley did, indeed, win the MVP of the Hawaii tournament.
So McCloskey now knew something very important – that Rodman's weak performances were almost certainly due to allergies and when Abdenour informed McCloskey that he was confident that they could control Rodman's allergies in the NBA, McCloskey knew that he wanted to draft Rodman. All things being equal, he would have Rodman ranked #1 on his board and would take him with the #11 pick. However, he wondered if he was the only GM that knew Rodman's situation. McCloskey began working the phone lines and having his assistants do the same, trying to gauge what other teams thought of Rodman. You see, McCloskey also wanted John Salley, as he wished to concentrate on defense in the Draft and Salley was a powerful shot blocker out of Georgia Tech.
McCloskey knew that Salley would be there at #11 but he also knew that Salley would definitely not be there when the Pistons next made a pick, which was the third pick of the second round (#27 overall). So McCloskey decided to take a risk. Every other team seemed to have written Rodman off after Hawaii and Chicago, so McCloskey had to cross his fingers and just hope that Rodman would be there at #27.
As you well know, Rodman was there at #27, and he went on to become a key player (as did Salley) for the Pistons as the franchise won back-to-back NBA Championships in 1989 and 1990.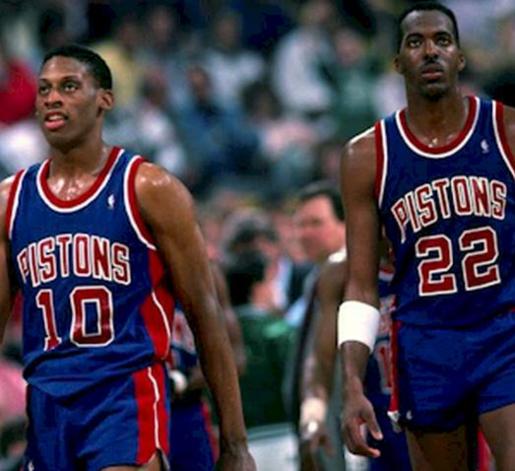 Rodman made an All-Star team as a Piston in 1990 and was named Defensive Player of the Year in back-to-back seasons in 1990 and 1991. Rodman is the only player from the 1986 Draft so far to make it into the Basketball Hall of Fame for his NBA playing career (Arvydas Sabonis and Drazen Petrovic were inducted for their international play). And who knows how his career would have went if it were not for allergies!
The legend is…
STATUS: True
Thanks to Keith Langlois of Pistons.com and Steve Addy and Jeffrey F. Karzen's great book The Detroit Pistons: More Than Four Decades of Motor City Memories for the great quotes for this piece.
Feel free (heck, I implore you!) to write in with your suggestions for future installments! My e-mail address is bcronin@legendsrevealed.com