Here is the latest in a series of examinations into urban legends about baseball and whether they are true or false. Click here to view an archive of the baseball urban legends featured so far.
BASEBALL URBAN LEGEND: Rick Honeycutt cut himself on the tack he was using to cheat in a game.
Rick Honeycutt spent twenty-one years in the Major Leagues pitching for eight different baseball teams between 1977 and 1997.
Here he is when he was on the Texas Rangers…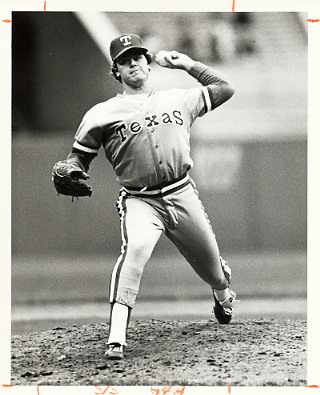 In 1980, while pitching for the last-place Seattle Mariners against the first-place Kansas City Royals, in one of the last games of the season, Honeycutt decided he would try SOMEthing different. He took a tack off of a Royals bulletin board and taped it to one his fingers hidden in his glove. Then things got weird…

You see, before the game, Honeycutt forgot what he had done. "I came down from the bullpen and sat in the dugout and I forgot I had done the thing. So, I took off my glove and wiped the sweat off my forehead and cut my head with the tack."
In the first inning, Honeycutt tried the tack, but gave up back-to-back singles to UL Washington and George Brett. So he stopped using the tack to scuff the ball ("scuff" is probably the wrong term. As Honeycutt put it, "If you looked at the ball, it looked like somebody tried to put the mark of Zorro on it. There were obvious marks on it.").
In the third inning, though, Willie Wilson tripled and he noticed the tack from third base. The next batter, George Brett, singled in Wilson and that is when the umpires came to the mound. They not only discovered the tack but they discovered the gash on Honeycutt's forehead. He had just barely missed poking himself in the eye with the tack!!
Reflecting on the attempt years later, Honeycutt noted, "Back then, I had heard a lot of people talking about it and I said, 'Why not?' I didn't practice it or anything. It was pretty amateur. I did such a bad job that nobody on my own team knew I had done it. My manager (Maury Wills) and pitching coach (Wes Stock) were laughing at me in the dugout when they found out."
Honeycutt has become a respected coach in the years since his retirement. He has been the Los Angeles Dodgers pitching coach since 2006, remaining in the role under four different managers (a real rarity for a pitching coach, as incoming managers often want to bring in their own coaching staff and outgoing managers also sometimes try to bring their staff with them if they leave one team for another). He has become a bit of a Dodger institution.
The legend is…
STATUS: True
Thanks to Honeycutt and Sam McManis for the information!
Feel free (heck, I implore you!) to write in with your suggestions for future installments! My e-mail address is bcronin@legendsrevealed.com.