Here is the latest in a series of examinations into urban legends about football and whether they are true or false. Click here to view an archive of the football urban legends featured so far.
FOOTBALL URBAN LEGEND: A panty raid helped lead to Auburn's first national championship.
In 2010, Auburn University won the national college football championship by defeating Oregon in the BCS National Championship Game. It was the first national championship for the Auburn Tigers since 1957, when they were voted the National Champions in the Associated Press poll (Ohio State were National Champions according to the Coach's poll). That 1957 Championship began with a number of controversies and ended with still more.
One of those controversies, though, might have been the key to Auburn's season. In fact, you could argue that they might owe a great deal of their success that year to, of all things, a panty raid.

A number of issues that had been building up for years came into play for Auburn in their 1957 football season. The first was the matter of the extreme scarcity of "clean" programs in college football during the 1950s. You see, for decades, the National Collegiate Athletic Association (NCAA) did not particularly pay attention to whether teams were running "clean" programs (as in not paying their players). A 1929 Carnegie Foundation investigation over a number of years revealed just 28 "clean" programs of the 112 universities that they visited. Things did not get any better over the next two decades, particularly after World War II, when college football was having another boom in popularity. In fact, the NCAA did not even have an enforcement division until 1952! Can you believe it? 1952! The enforcement division was important because it gave the NCAA a variety of ways to punish schools other than their only previous method of punishment – expulsion (and as you might imagine, it was nearly impossible to actually expel a University from college sports. The NCAA actually tried in 1950 with seven schools, including Maryland and Boston College, but it did not get enough votes). You would not be surprised to find that the schools with the best football programs also tended to be the ones who were in trouble the most. Ohio State and the University of California, Los Angeles (UCLA) shared the National title in 1954 – in 1956 both were on probation with sanctions by the NCAA. Oklahoma won the National title in 1955 and 1956 while on probation (no sanctions) both years. So it should come as little shock that when Coach Ralph "Shug" Jordan turned the Auburn football program around (after an 0-10 season in 1950!) when he was hired in 1951 that there might be some improprieties as he dramatically improved the talent level of the squad. In 1956, an assistant coach was found to have paid two high school recruits (twin brothers) $500 as an enticement to come to Auburn. As a result, Auburn was punished by not being able to compete in a bowl game for three years, the harshest punishment handed out yet for the new enforcement division of the NCAA. So entering the 1957 season, Shug Jordan knew that Auburn could not compete for a bowl.
The other issue that came to a head in 1957 had to do with the role of women in colleges after World War II. You see, once the war ended, colleges were filled to the brim with returning G.I.'s going to school on the G.I. Bill. However, schools also saw an influx of female students at the same time. In fact, at Auburn, female attendance doubled between 1946 and 1950! With the influx of male students and the increased role of female students, male-female fraternization became a major issue in colleges during the late 1940s – the mixture of sexual revolution tempered with puritanical values caused quite an interesting set of interactions. Perhaps the greatest symbol of this new era of interaction was the "panty raid," where male students would storm into female-only dorms to steal undergarments of female students. Future pop singer Toni Tennille (of Captain and Tennille fame) attended Auburn during the late 1950s and she remarked about the practice, "I experience guys standing outside the dorms and yelling for panties. We were so repressed."
But a decade earlier, in November of 1947, there was a massive panty raid. It outraged Auburn's new Dean of Women (she began in 1946), Katharine Cooper Cater. She wrote a thorough report detailing the property destruction and the affronts to women students. She detailed two dozen suspects and fifty-five incidents , including "many boys drinking," "kissed girls— tried to kiss others," "very ugly talk," "chased girls in rooms," and "kissed by drunkard." This led to Cater instigating a "Rules for Women in Case of Panty Raids." She ordered female students to don housecoats or raincoats, turn off all lights, and go sit on the floors of the hallways. And if anyone disobeyed, they would suffer restrictions.
However silly the whole thing was, Auburn did take these things seriously and so did Coach Jordan. Jordan had very strict rules when it came to the team's moral code. Well, in 1957, the quarterback of the team, Jimmy Cooke, was caught in the female dorm late at night. Auburn history has detailed that it was, in fact, a panty raid, but no one can confirm that for sure (including Cooke's former teammates). Whatever the reason Cooke was there, the restrictions that came up from the panty raid era led to Coach Jordan kicking Cooke off of the team.
So now you had a team with no chance at a bowl game and they didn't even have their starting quarterback!
As it turned out, this was a blessing in disguise as Junior Lloyd Nix, who had lost the quarterback job when he was shifted to halfback (where he did not even start) stepped up and helped lead Auburn to an undefeated season.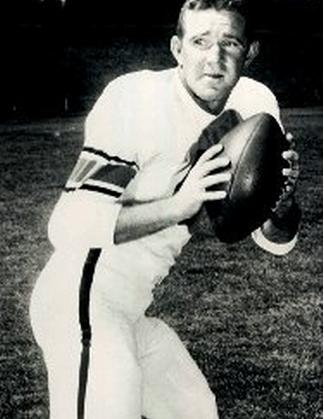 Now don't get me wrong, it was not like Nix was some dominant quarterback who rescued the season with his cannon of an arm. In fact, Nix only completed 33 passes…ALL SEASON. However, his halfback experience served him wonderfully as the Tigers developed a powerful option system, led by halfbacks Tommy Lorino and Bobby Hoppe and fullback Billy Atkins and, of course, Nix's intelligent game-calling.
But the team was really led by its defense, particularly linebacker Jackie Burkett, nose guard Zeke Smith and ends Jim Phillips and Jerry Wilson. The team gave up 28 points ALL SEASON, including six shutouts, as they outscored their opponents 207-28 as they rolled their way to a 10-0 record (by the way, Auburn's last game of the season was a 40-0 annihilation of Alabama, a loss so bad that Alabama fired their head coach and hired some fellow named Bear to take over…).
Here is where things get tricky. You see, back then, the Associated Press poll took place BEFORE any bowls were played. Not only that, but a little known rule allowed that any AP subscriber was allowed to vote in the AP poll. Knowing all about rule, Auburn sports information director Bill Beckwith went to small radio stations and small newspapers and asked them to vote for Auburn. His strategy worked and Auburn ran away with the voting, ending up with 210 first-place votes and 3,123 total points as compared to Ohio State's 71 first-place votes and 2,646 points (this loophole was soon closed – now there is a standard list of voters for the poll). Had the voting been down AFTER the Ohio State Buckeyes defeated Oregon Ducks in the 1958 Rose Bowl, things might have been different, but they weren't, so Ohio State won the Coaches' Poll (and their Coach Woody Hayes was named Coach of the Year) and Auburn won the AP poll.
The following year, Auburn went 9-0-1 (only a tipped pass that led to a tie against Georgia Tech kept them from being 10-0 and possible repeat AP champions, as the "every subscriber could vote" rule had not yet been changed), so Nix went undefeated as a quarterback at Auburn. And he would never have gotten the chance had it not been for rules connected to panty raids.
The legend is…
STATUS: True
Thanks to reader Philip for suggesting I look at Auburn's 1957 season (Philip specifically asked if they played a bowl in Cuba – they did not, Philip, they DID play the Bacardi Bowl in Cuba in 1937, though). Thanks to Robert Heard's article, "Scarlet Champions" about the institution of the NCAA enforcement division, thanks to Steve Irvine's article in The Birmingham News about Beckwith's lobbying for the AP poll, thanks to Leah Rawls Atkins's extensive article on a century of women at Auburn from 1892-1992 (she had helpful information about the alleged 1957 panty raid that got Cooke into trouble), thanks to Pete Daniel's book, Lost revolutions: the South in the 1950s, for information about panty raids and thanks to Kelly Kazek's book, Hidden History of Auburn, for even more information about panty raids.
Feel free (heck, I implore you!) to write in with your suggestions for future installments! My e-mail address is bcronin@legendsrevealed.com