BASEBALL URBAN LEGEND: Walter Johnson reenacted a mythical George Washington coin toss.
In John Ford's classic 1962 western, The Man Who Shot Liberty Valance, there is a classic line after a newspaperman discovers the truth of who actually shot Liberty Valance. He is undeterred, though, noting "When the legend becomes fact, print the legend." That's exactly what United States history was for quite some time when partially fictionalized histories about famous people like Christopher Columbus and George Washington became accepted as fact by most Americans. In the case of Columbus, Washington Irving's A History of the Life and Voyages of Christopher Columbus credited Columbus with proving that the Earth was not flat, a belief no one seriously still had in the late 15th Century. In the case of Washington, Parson Weems' A History of the Life and Death, Virtues and Exploits of General George Washington invented what is perhaps the most famous George Washington anecdote, the tale of young George confessed to cutting down a cherry tree despite knowing that he would most likely be punished severely for his actions. However, Weems also invented a few other Washington anecdotes, including the time young George threw a silver dollar (since they didn't actually have silver dollars, it "must" have been a piece of slate the size of a silver dollar) across the Rappahannock river.
In 1936, Hall of Fame pitcher Walter "The Big Train" Johnson decided that he would do in real life what Washington only did in myth.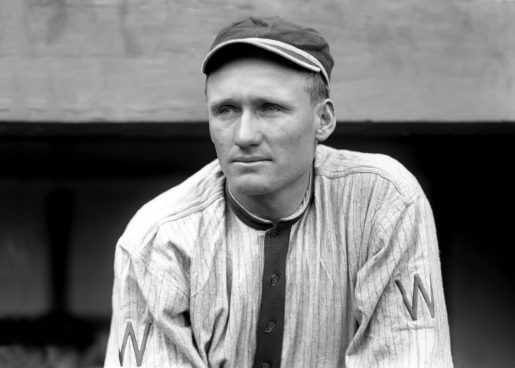 Did Johnson manage to throw a silver dollar across the Rappahannock river? Read on to find out…
On top of being one of the greatest pitchers in the history of Major League Baseball (Johnson threw in the 90s when essentially no one was throwing in the 90s), Walter Johnson was also an amiable, easygoing person. I wrote about how Johnson gladly went along with "farce games" on the last game of the season when his team, the Washington Senators and their opponents were out of the pennant race, where he would effectively throw batting practice so that the fans could see a lot of runs scored. So it is no surprise that he went along with this publicity stunt.
February 22, 1936 was the 204th anniversary of George Washington's birth (well, his official birth – technically Washington was born on February 11th, 1731 but that was under the Julian Calendar. When the American colonies adopted the Gregorian calendar in 1752, his birth date was moved up one year and eleven days to the now official February 22, 1732). The people of Fredericksburg, Virginia (where George Washington moved to when he was six years old and stayed for the rest of his adolescence) chose to have a grand celebration of Washington's birthday that year (I do not know why they did not do so in 1932). They decided to particularly celebrate the myths from Parson Weems' history of Washington. They planted 200 cherry trees. Plus they decided to have the great Walter Johnson demonstrate whether Washington's mythological toss was even physically possible.
Johnson, by this time, had been retired as a pitcher for nearly a decade (his final season was in 1927). He also had recently finished up his second career as a professional baseball manager, managing his former team, the Washington Senators, from 1929-1932 and the Cleveland Indians from 1933-1935). Johnson retired to his family farm in Germantown, Maryland (located in Montgomery County – Johnson would become county commissioner in 1938). In early February 1936, Johnson was informed that he was a part of the inaugural class in the Baseball Hall of Fame (along with Babe Ruth, Ty Cobb, Honus Wagner and Christy Mathewson). So Johnson was riding high when he agreed to attempt to duplicate Washington's mythological feat.
Johnson was forty-eight years old at the time, long past his pitching prime. He practiced for weeks leading up to the event. He sent an amusing message to the people of Fredericksburg leading up to the event, "I am practicing with a dollar against my barn door. Arm getting stronger, barn door weaker." Representative Sol Bloom of New York, chairman of the Washington Bi-Centennial Committee, put odds of 20-1 against Johnson achieving the feat. Bloom also noted that the width of the river was much greater during Washington's childhood, stating that it was 1,320 feet wide back then as compared to the current 372 feet width (Bloom's measurements were questioned by many, with one local attorney noting that if that was the actual width, then Fredericksburg would have been underwater back then). Bloom did donate a 1796 silver dollar, though, to show that there were no hard feelings.
Even though the bank of the river was covered with snow and ice, more than a thousand people showed up to cheer Johnson on (plus roughly three thousand on the other side of the river, hoping to catch the coin). Johnson had three silver dollars. Two for practice throws and then a third "official" coin, engraved with the day's date and Johnson's name. Johnson's first throw fell short. His second coin, though, made it over, as did his third and only "official" throw. The crowd rejoiced and Johnson proved that the feat could be achieved. Johnson's throw was likely 386 feet (I've seen it listed as 286, but that's with people listing the river as being 272 feet wide. A bunch of different contemporary accounts I've found all say 372 feet, so I believe the modern tellings just got the number wrong).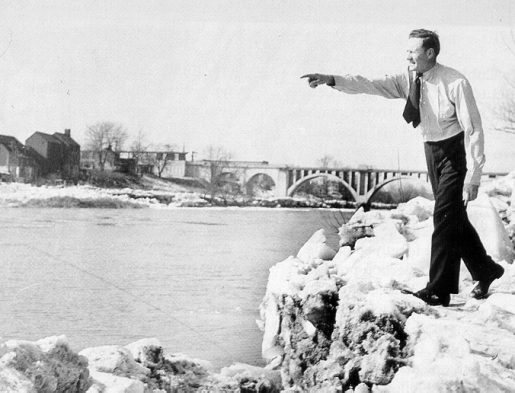 Amusingly, New York Yankees Hall of Fame first baseman, Lou Gehrig, then still an active player, made light of the event a day earlier. Gehrig stood on the shore of the Hudson River, at a point where the other side was 400 feet away. Gehrig had five silver dollars. He missed the shore on the first four before finally reaching the other side on his fifth dollar, ending up an estimated 30 feet inland on the other shore.
The legend is…
STATUS: True
Thanks to an uncredited author in Sports Illustrated for their article on the event.
Be sure to check out my Sports Urban Legends Revealed for more sports urban legends!
Feel free (heck, I implore you!) to write in with your suggestions for future installments! My e-mail address is bcronin@legendsrevealed.com.
Tags: George Washington, Lou Gehrig, Walter Johnson