This is the latest in a series of examinations of legends related to boxing and whether they are true or false.
BOXING URBAN LEGEND: Jack Dempsey's gloves were "loaded" when he first won the world heavyweight championship.
On the Fourth of July, 1919, 24-year-old William Harrison "Jack" Dempsey defeated Jess Willard and won the world heavyweight championship title. Dempsey would hold the title for the next seven years before losing it to Gene Tunney in September of 1926. Dempsey was an underdog going into the match against the champ, as the 37-year-old Willard had five inches and a good fifty pounds on Dempsey. The match clearly was not a "David versus Goliath" set-up (while an underdog, most papers gave Dempsey decent odds – the New York Times reported betting was 5-4 against Dempsey), but some members of the press still sold it as such. Therefore, there was a great deal of surprise when Dempsey not only defeated Willard, but he brutalized him, winning in three rounds as Willard's corner could not let the champ come out for the fourth round.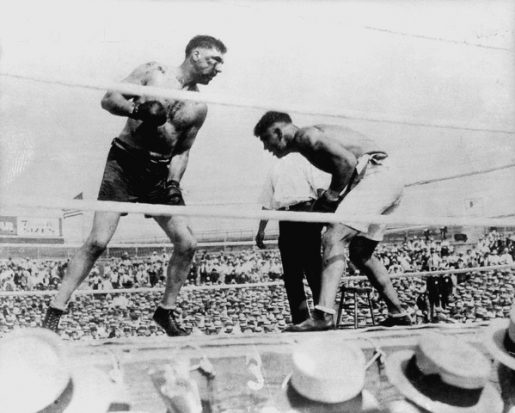 Dempsey knocked him down seven times in the first round and after the match, the story was that Willard lost six teeth and suffered a broken jaw, as well as other fractures in his facial bones (plus some broken ribs).
Confusion over how Dempsey could cause all of those injuries soon turned to suspicion that Dempsey was cheating, using some sort of "loaded" glove, that is to say a glove that was treated with a hardening substance or, in the alternative, hiding a heavy object (like a tire iron) in his glove, to increase the force of his blows. When Dempsey's then-manager John "Doc" Kearns confessed that the gloves were loaded in a Sports Illustrated excerpt of Kearns' biography in 1964 (it was published posthumously, as Kearns died in 1963), the suspicions from 1919 became a hot topic and have remained a contested subject ever since. So, did Dempsey use loaded gloves to win the title?
Read on to find out!
It is important to note that this is a special case in that, unlike many other similar controversies, it did not solely arise after the fact. In fact, Willard was concerned about the possibility of Dempsey tampering with his gloves before the bout. So much so that part of the stipulations of the match was that a member of Willard's camp observe the taping of Dempsey's hands. And here is where Kearns' confession enters into things. He claims that right under the nose of the opposing side's observer (and unbeknown to Dempsey himself!) that Kearns had doctored Dempsey's taped hands. Kearns claims that he sneaked a container of Plaster of Paris in place of talcum powder, and when Dempsey wetted his taped hands (which he did do), Kearns put the "talcum powder" on Dempsey's gloves and the end result was Dempsey having his hands essentially covered in cement. Kearns noted that he did this because he bet a good sum of money that Dempsey would knock Willard out in the first round. The amount of money he would win if Dempsey did so was more than Willard was guaranteed for the entire fight!
There are a few notable problems with Kearns' story. One, he is a terribly unreliable narrator, as Dempsey had fired Kearns in 1923 because he felt that Kearns was skimming money from Dempsey. Kearns unsuccessfully tried to sue Dempsey a number of times. So Kearns clearly was not someone that you would just take at his word when it came to Dempsey, especially an 81 year old Kearns reflecting back on a match from forty years earlier. Beyond the credibility issues regarding Kearns, though, his story just made no sense. Every other person in the room denied that Dempsey's hands were covers in Plaster of Paris and more importantly, Boxing Illustrated tested the idea out and saw that the plaster would crack the first time that you hit someone, leaving you with cracked plaster within your glove. At best, this would make punching your opponent extremely painful and as worst, it would break you hands. Dempsey's hands were not broken and he punched Willard with ease during the match. The manufacturers of Plaster of Paris even stated that their product could not be used in the manner Kearns described. Perhaps most importantly, there is film of the fight and it shows Willard looking at Dempsey's taped hands before the bout! Clearly, he would notice if Dempsey's hands were covered in Plaster of Paris. Even Sports Illustrated issues a statement in 1965 noting that they felt that Kearns' statements were not true (granted, after Dempsey first filed suit against them for libel).
The second argument for Dempsey having a loaded glove is that he hid an iron spike in his glove during the first round and then discarded it. Again, the theory would be that Dempsey was involved in a bet that stated that he had to knock Willard out in the first round. Dempsey nearly did knock Willard out at the end of the first period, but a timekeeping snafu kept Willard in the match. The theory behind Dempsey using a spike is that a tiny thin dark object is seen on the ring apron while Willard is being counted out. This would be the supposed iron spike that Dempsey used to knock Willard down and cause so much damage to Willard.
However, it is worth noting that the injuries to Willard's face were greatly exaggerated. For instance, his jaw was not broken (he gave a statement to reporters after the match, for crying out loud!). So the shocking amount of injuries suffered by Willard that caused many to think that Dempsey would have HAD to have used a loaded glove if he did so much damage were not so shocking. As to the iron spike story, it is not supported by the facts of the fight. In the film of the bout, Dempsey pushed and held Willard with an open hand with the glove that supposedly had an iron spike in it. That does not make sense. Nor does it make sense that Dempsey would be able to drop an iron spike in front of everyone without anyone noticing it. Finally, if Dempsey was using an iron spike, why the heck would Kearns not just say that if he wanted to argue that Dempsey was using a loaded glove?
In the end, there just isn't any substantial evidence showing that Dempsey used a loaded glove in the Willard match, so I am going with a…
STATUS: False
Thanks to the great Monte D. Cox for his excellent research and writing on this topic.
Feel free (heck, I implore you!) to write in with your suggestions for future installments!
Tags: Doc Kearns, Jack Dempsey, Jess Willard