Here is the latest in a series of examinations into urban legends about basketball and whether they are true or false. Click here to view an archive of the basketball urban legends featured so far.
BASKETBALL URBAN LEGEND: Magic Johnson played high school basketball with WWE's The Undertaker.
A popular game to play with celebrities is to look at them "Before They Were Famous," particularly when they were younger. It is especially fascinating when you discover that two different celebrities crossed paths when they were younger, like learning that Jon Hamm taught The Unbreakable Kimmy Schmidt's Ellie Kemper acting in high school or that NFL superstar Randy Moss was high school football teammates with veteran NBA point guard Jason Williams. Thus, it comes as no surprise to find out that people were quite fascinated with a piece of trivia that has been making the rounds on the internet for the last few years (to the point where a number of readers have suggested it to me to use in this column) that Earvin "Magic" Johnson, legendary star of the Los Angeles Lakers played high school basketball with Mark "The Undertaker" Calaway, famed wrestling star of WWE.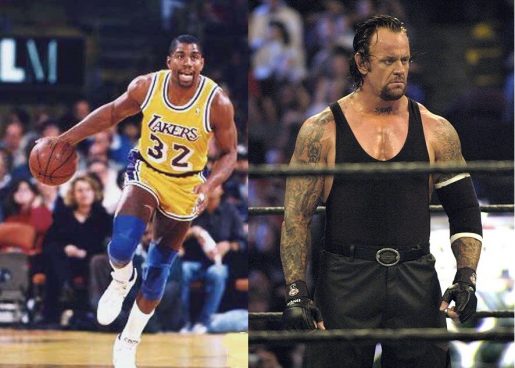 Is is true?
Simply put, no.
Initially, just their ages could be a give away, as Calaway is listed as being born in 1965, while Johnson was born in 1959. However, there are enough citations stating that Calaway was born in 1962 (including his listing on the Internet Movie Database) that just going by their ages alone is not clear enough evidence to show that Calaway was not high school teammates with Johnson. What shows that they were not is the fact that Calaway did not play high school basketball in Lansing, Michigan at Everett High School, where Johnson was a star player (and where he first earned the nickname "Magic").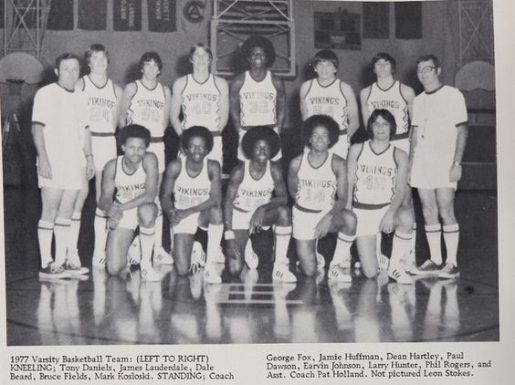 However, interestingly enough, Calaway was a very good basketball player in high school. He was born and raised in Houston, Texas. Upon graduating from high school, he began attending a two-year college in Lufkin, Texas called Angelina College. Calaway was a good enough basketball player at Angelina that he earned a basketball scholarship to play for a four-year college, Texas Wesleyan University (TWU), in Fort Worth, Texas. Even at this point in time, Calaway cut an imposing figure, physicality-wise. He played center for the TWU Rams.
It was during his time at TWU that Calaway began attending professional wrestling matches. He became fascinated with the business and became friends with local professional wrestlers. These relationships helped to encourage Calaway to decide to begin training to become a professional wrestler himself. His intent was to continue to play basketball until he graduated and then pursue his dream of becoming a wrestler. His basketball coach at TWU told him that he should hold off on the training until after the basketball season. It was a tough decision for Calaway, whose strength, size and speed made it quite possible that he could have succeeded as a professional basketball player in Europe. However, Calaway ultimately decided that wrestling was what he wanted to do, so he dropped out of college to devote his time to wrestling, working as a bartender at night and as an independent wrestler by day.
He made his wrestling debut in 1984 for World Class Championship Wrestling (WCCW), a regional wrestling organization in Texas. After working for them for a few years, WCCW merged with another regional wrestling organization to form the United States Wrestling Association (USWA) in 1989, with Jerry "The King" Lawler as their star wrestler. Soon after forming the new organization, Calaway (clearly being groomed for stardom) defeated Lawler while wrestling under the name "The Master of Pain" (Calaway went through a number of names in his early days). Calaway quickly came to the attention of World Championship Wrestling (WCW), who signed him that very same year. The following year, after being dropped by WCW, Calaway was signed by World Wrestling Federation (which later became World Wrestling Entertainment and is now simply WWE) where he wrestled for over two decades (and for all I know, might wrestle for again soon).
So while Calaway was a very good basketball player, he was never teammates with Magic Johnson, so the legend is…
STATUS: False
Feel free (heck, I implore you!) to write in with your suggestions for future installments! My e-mail address is bcronin@legendsrevealed.com.
Tags: Earvin Johnson, Everett High School, Magic Johnson, Mark Calaway, Texas Wesleyan University, The Undertaker, Undertaker