Here is the latest in a series of examinations into urban legends about TV and whether they are true or false. Click here to view an archive of the TV urban legends featured so far.
TV URBAN LEGEND: Cookie Monster was originally created as the "Wheel-Stealer" for a cheese snack commercial.
An interesting aspect of Jim Henson's career is that before the debut of Sesame Street, while Henson made a number of appearances on late night television (and his character Rowlf was a regular on The Jimmy Dean Show during the early 1960s) his Muppets were best known in the country for their appearances in various commercials around the country (in the Washington D.C. area, where Henson got his big break doing the puppet television show Sam and Friends in the 1950s, he did over 300 ads for Wilkins Coffee). These early commercial works helped Henson to develop the style that he would later use on both Sesame Street as well as The Muppet Show. However, as you might imagine, these ads also gave him the freedom to develop new characters and one of the most amusing character developments was the evolution of one puppet called the "Wheel-Stealer" that went from being one of three puppets in an unaired ad campaign for a long-forgotten cheese snack to one of the most famous Muppets of them all, the Cookie Monster.
In 1966, Henson's Muppets Inc. made a pitch for an ad campaign for a new General Foods snack food called Wheels, Crowns and Flutes, which were cheese snacks (similar to Goldfish) that were shaped like, well, wheels, crowns and flutes. Henson developed three different puppets who were each obsessed with one of the three designs of the snacks. There was the Crown-Grabber, who was a big Boris Karloff-esque monster, there was the Flute-Snatcher, who Henson described as a "speed demon" and, finally, there was a monster known as the Wheel-Stealer, a big, cute monster with sharp teeth who excitedly devours wheels.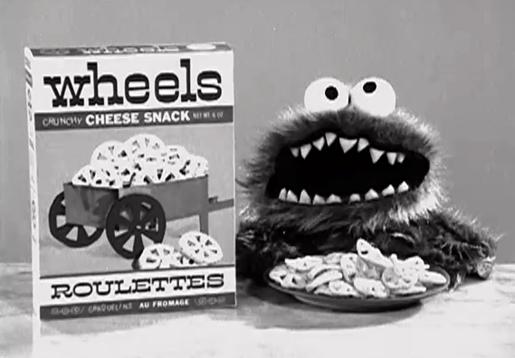 The ad campaign was not chosen by General Foods, so the commercials never aired.
Undeterred, Henson adapted the Crown-Grabber for a sketch on The Ed Sullivan Show, where he ruins a girl's day. From that point on, he was known as the Beautiful Day Monster and made a few appearances on Sesame Street. Flute-Snatcher made a couple of Sesame Street appearances but never really amounted to anything.
The Wheel-Stealer, though, was meant for bigger things. First, Henson used the character for a training film for IBM, where it devours a talking coffee machine (that then explodes) and then adapted the film for an Ed Sullivan Show sketch (the coffee machine was now a bomb).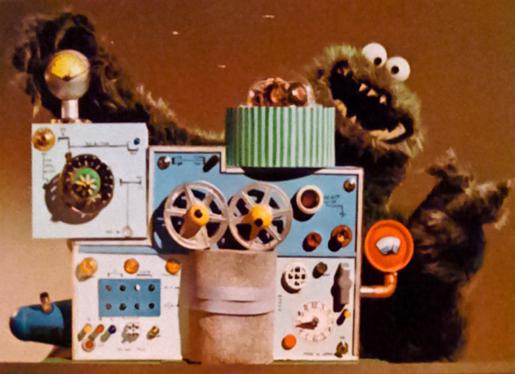 Then Henson adapted the character for a new ad campaign for Frito-Lay in 1969 for a potato crisp snack food called Munchos. This new version did not have the teeth of the previous versions of the character and changed colors to purple. He basically looked like a smaller purple version of the Cookie Monster.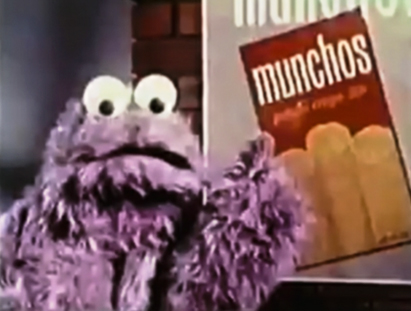 This character did well in his three commercials for the product and Frito-Lay wanted to continue the campaign but Henson declined to extend the contract, as he was by that point developing Sesame Street and wanted to use the character in his new show.
Cookie Monster then made his official debut in the very first episode of Sesame Street in November of 1969 and has been a delight ever since!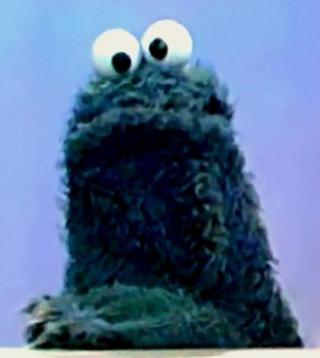 The legend is…
STATUS: True
Thanks to the Muppet Wiki for the images!
Feel free (heck, I implore you!) to write in with your suggestions for future installments! My e-mail address is bcronin@legendsrevealed.com.