Here is the latest in a series of examinations into urban legends related to children's literature and whether they are true or false.
CHILDREN'S LITERATURE URBAN LEGEND: Madeline was an orphan.
Madeline was a series of children's books created by writer/artist Ludwig Bemelmans in 1939, starring a cute little girl named Madeline who lived in 1930s France.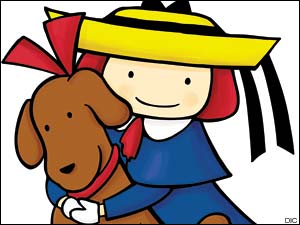 In an old house in Paris that was covered with vines,
lived twelve little girls in two straight lines
They left the house, at half past nine…
The smallest one was Madeline.
There are many books in the series (here are the first four), and the series continues to this day, now written by Bemelmans' grandson, John Bemelmans-Marciano.
The books were adapted into a live action film in 1998…
The books have also been adapted to a number of animated programs over the years. I can't speak to all of the animated series, but I know that the live action film made a major change that I think is likely to be the cause for a notable misconception people have of the Madeline books.

To wit, Madeline in the films is an orphan who lives in a boarding school.
That's basically what the books are about, but they are about a little girl at a boarding school, and that's it.
For years, people have basically assumed that the books are about an orphanage, and that's not so. Heck, in at least one of the books, Madeline specifically refers to her father sending her something in the mail.
The books were always meant to be just about a group of little girls living in a boarding school in France.
Yet just do a quick search for "Madeline Bemelmans (so you don't get other Madelines) orphanage" and you'll see a number of citations to the books being about girls in an orphanage.
It's the darndest thing.
Here are some samples…
After Madeline's rescuer, the stray dog Genevieve, is banished from the orphanage…
Madeline is one of twelve girls living in an orphanage in Paris
However, when the orphanage's board of trustees discovers that a dog is living on the
In any event, no, it's a boarding school, not an orphanage.
The legend is…
STATUS: False
Feel free (heck, I implore you!) to write in with your suggestions for future installments! My e-mail address is bcronin@legendsrevealed.com.