Here is the latest in a series of examinations into urban legends related to architecture and whether they are true or false. Click here to view an archive of the architecture urban legends featured so far.
ARCHITECTURE URBAN LEGEND: A California woman had a house constructed entirely out of a recycled Boeing 747 airplane!
Francine Rehwald was a 65-year-old retiree who was living in Malibu Hills, California when she came to David Hertz for ideas for her retirement house in 2005. She wanted something that was "environmentally friendly" while also having a real feminine design. Something with "curves," as Rehwald described it.
Hertz came up with a brilliant idea – build the house out of a recycled Boeing 747 airplane!!

And that's just what they did, with the planning, permit granting and construction taking pretty much all of the last five years, with the project reportedly soon finally coming to fruition some time this year.
Here's the design of the house, which uses the salvaged wings and tail flaps of the plane to serve as the roof of the multilevel home…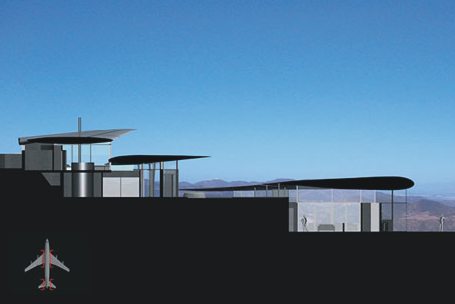 And as you can tell, such an endeavor presents some strange construction details, as shown here by the delivery of pieces of the plane…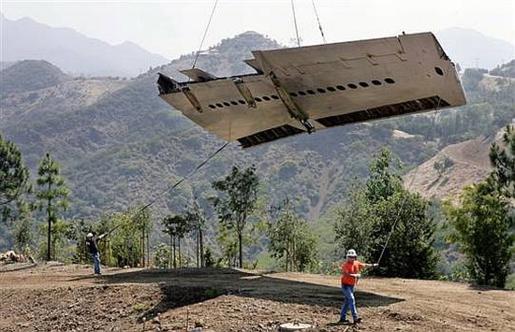 An interesting aspect of the construction is the fact that, besides the overall point that they are making good use to all of the materials of the plane, there really is not anything particularly "green" about the design of the house. The only "green" thing about the house is what it is made out of. I only mention that because of the initial intent was to be environmentally friendly. And while yes, re-using a discarded plane is better than, say, trashing it, it is still somewhat odd that the house does not have other "environmentally friendly" aspects to it.
Still, what a cool house!!!
Here's a YouTube video of the house…
The legend is…
STATUS: True
Feel free (heck, I implore you!) to write in with your suggestions for future installments! My e-mail address is bcronin@legendsrevealed.com.