Here is the latest in a series of examinations into urban legends about music and whether they are true or false. Click here to view an archive of the movie urban legends featured so far.
MUSIC URBAN LEGEND: ABBA turned down a billion dollar concert tour.
Longtime reader Jumborg Ace wrote in to ask, "Is it true that a few (maybe a lot of) years ago that ABBA was offered 1 BILLION
dollars to do 1 concert AND they turned it down? I though I heard that but maybe it was just a radio joke."
Well, the answer to your very specific question is no. They were never offered that much money for one single show.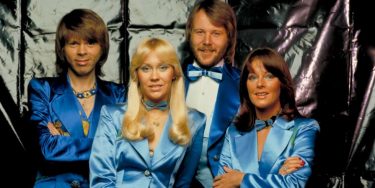 However, the full answer is closer to true than you would expect!

ABBA was a band that was made up of two married couples, Benny Andersson and Anni-Frid Lyngstad and Björn Ulvaeus and Agnetha Fältskog. Their first initials in their first names led to ABBA. They last toured in 1982. The couples both divorced, but it seems that it was more that Andersson and Ulvaeus just got caught up in writing musicals, like Chess and Mamma Mia.
Mamma Mia has made over $2 billion as a musical and was also a blockbuster movie, with a soundtrack by ABBA…
So they never got back together.
However, they had some crazy offers over the years. In 2000, they were offered $1 billion in U.S. dollars from a British-American consortium to do an extensive tour, 250 dates in 100 cities, but the group turned it down. That was never an official offer, just what their agent told them, but it doesn't sound that outrageous to see them be offered $4 million per concert. They would easily sell out 50,000 seat arenas. You charge $200 per ticket and that's $10 million per show.
U2 has the highest-grossing tour of all-time, their 2009-11 tour of 110 shows. They took in $736,421,584 at the time. So imagine doubling that total, which you figure they would easily do (first ABBA tour in thirty years?!) and they could easily take in $1.5 billion, netting the consortium a good-sized profit.
Anyhow, the tour seemed too grueling, so they said no.
In 2016, they did a quick mini-concert to celebrate their 50th anniversary as a group.
They're currently planning some sort of odd hologram/virtual live tour where they won't have to actually tour.
The legend is…
STATUS: False as to the specific question, but mostly True.
Thanks to Jumborg Ace for the suggestion!
Feel free (heck, I implore you!) to write in with your suggestions for future urban legends columns! My e-mail address is bcronin@legendsrevealed.com