Here is the latest in a series of examinations into urban legends about baseball and whether they are true or false. Click here to view an archive of the baseball urban legends featured so far.
BASEBALL URBAN LEGEND: The baseball that Barry Bonds hit to pass Babe Ruth's career home run total ended up in the hands of a fan who was at the concession stand at the time!
Andrew Morbitzer was at the concession stand on May 28, 2006 getting his wife some pretzels as well as a couple more beers. He did not buy any Crackerjacks, but if he had, it would have been fitting, as he was about to be rewarded with perhaps the best prize you could ever get when going to the concession stand – he got the baseball that Barry Bonds hit for his 715th home run!


Barry Bonds had tied Babe Ruth's mark a few days earlier in Oakland, disappointing Giants fans who wanted him to do it at home, but Bonds passed Ruth and took sole possession of second place on the all-time home runs list (Bonds would eventually pass #1 on the list, Hank Aaron, the next season) at home where the Giants were playing the Colorado Rockies.
Morbitzer was actually a transplanted Colorado resident. He was wearing a Bonds #715 T-Shirt when, according to him, he lost track of who was due up in the next inning and figured it would be a good time to get beer refills for himself and his wife (as well as pretzels for his wife).
What happened next is practically unbelievable – the ball (a 2-run shot off of Colorado pitcher Byung-Hyun Kim, who is probably tired of famous home runs being hit off of him) was hit to centerfield, butl glanced off a fan's hands about 15 rows up and then dropped onto an elevated platform beyond the fence.
It then rolled down the roof of a concession stand and fell directly into Morbitzer's hand!
He was quickly mobbed and taken away by security.
Morbitzer made the rounds with the media over the next few days…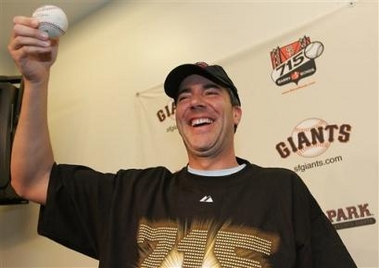 The ball was auctioned off later that year on eBay and netted $220,000!
That's some prize right there.
STATUS: True.
Feel free (heck, I implore you!) to write in with your suggestions for future installments! My e-mail address is bcronin@legendsrevealed.com